Vice presidential candidates Mike Pence and Tim Kaine faced off in a fierce vice presidential debate on 4 October at Longwood University in Farmville, Virginia. The candidates discussed a number of topics while slinging continued attacks at their respective running mates.
Initial reactions by political analysts are divided on who won the debate, though those on Twitter seem confident that Donald Trump's vice presidential pick was the clear winner. According to Twitter Government, 60% of the conversation on the microblogging site centered around Indiana Governor Pence and 40% on Virginia Governor Kaine.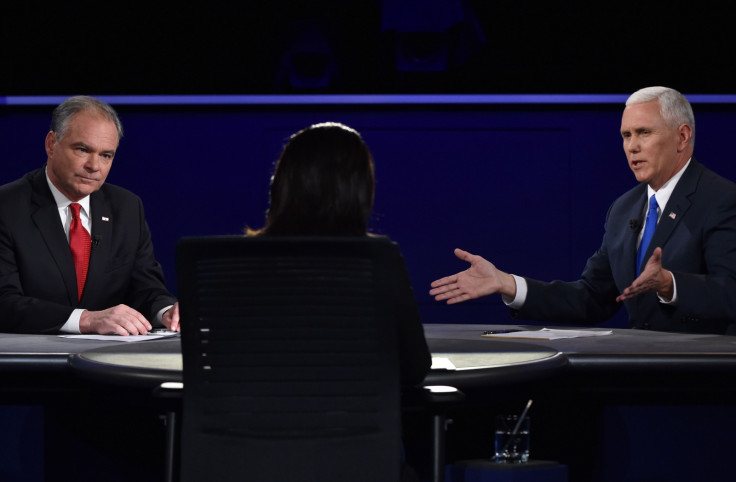 Unlike the first presidential debate, the first and only vice presidential debate focused on a number of issues. Twitter Government reported that foreign affairs, the economy and terrorism were the three most-tweeted about topics during the debate, with reproductive rights and immigration rounding out the top five.
However, the top three tweeted moments all were a mix of foreign affairs, national security and immigration. Pence and Kaine engaged in heated arguments over a number of issues, but high among those was Russia and Russian leader Vladimir Putin. Kaine repeatedly asked Pence to clarify or defend Trump's comments that Putin is a great leader. He even claimed: "Trump has his own Mount Rushmore: Vladimir Putin, Kim Jong-un, Muammar Gaddafi and Saddam Hussein." Twitter, of course, took notice.
Though Pence kept his composure throughout the debate, his "you whipped out that Mexican thing" remark to Kaine did not sit well with Latinos on Twitter. The hashtag #ThatMexicanThing started trending, with Latinos sharing inspiring stories on their families and their lives in the US. The gaffe is sure to hurt the Republican campaign among Latino voters – a demographic that traditionally votes Democrat.
Though he repeatedly deflected questions about his running mate's past comments, Pence was commended for staying calm throughout the debate. His opponent made key accusations against Trump, which Pence tried somewhat successfully to evade. Meanwhile, Kaine was repeatedly called out for his interruptions of both Pence and the debate moderator.
Regardless of what Twitter thought of them, Pence and Kaine still have the support of their running mates.