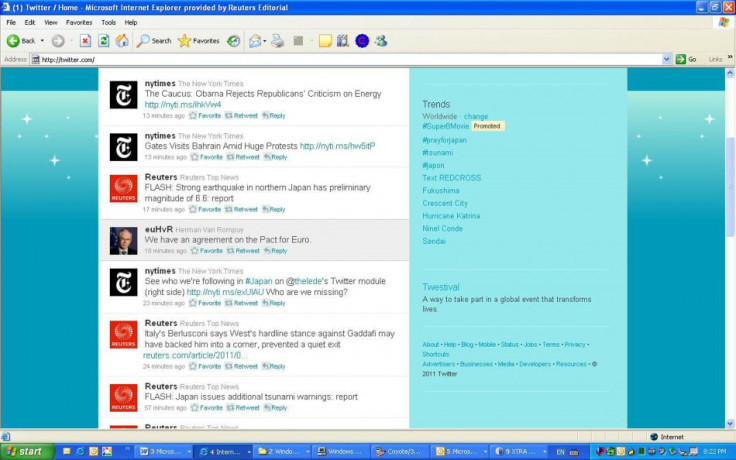 Speaking at the e-G8 Internet forum in Paris, Twitter's head of operations in Europe Tony Wang, indicated that the company would be willing to hand over user information should it be "legally required" to do so.
Wang's speech comes just after Sir Tim Berners-Lee's comments about the website's unscrupulous role in the U.K.'s ongoing super injunctions debate.
The website came under fire after thousands of users tweeted -- posted comments -- identifying celebrities who had obtained injunctions to hide their extra-marital affairs.
Chief among these celebrities was footballer Ryan Giggs. Giggs -- who was also identified in Parliament earlier this week -- has already begun legal proceedings against Twitter after more than 70,000 users used the website to reveal his injunction and affair.
In his speech Wang argued that it was not the website's responsibility to protect the users identity. "Platforms have a responsibility, not to defend that user but to protect that user's right to defend him or herself.
"If we're legally required to turn over user information, to the extent that we can, we want to notify the user involved, let them know and let them exercise their rights under their own jurisdiction.
"That's not to say that they will ultimately prevail, that's not to say that law enforcement doesn't get the information they need, but what it does do is take that process into the court of law and let it play out there."
Whether this surprise twist in the super-injunction debate will allow the gagging orders to be effectively enforced remains questionable. Users can actually tweet having divulged a minimal amount of information. It is likely that even with it, law enforcement agencies would still struggle to be able to hold each specific user accountable for their tweets.
For this reason many have come to argue that the entire debacle has demonstrated a need for a change in the U.K.'s current injunction laws, rather than a change in policy by Twitter.
At the same event Wikipedia founder Jimmy Wales told the BBC.
"I do view it to being similar to the Chinese situation where they also cover up misdeeds of high ranking people," He said that, although the internet was a global phenomenon, it was unlikely to pander to those countries with stricter rules."The US is going to be absolutely inflexible on this point. It is in the constitution," he said, referring to freedom of speech provisions.
"I think that puts intergovernmental communication and co-operation on this issue into a different light, which is, there's not a whole lot to co-operate on."