Twitter has released its first ever Transparency Report showing government requests for user account information, typically in connection with criminal investigations.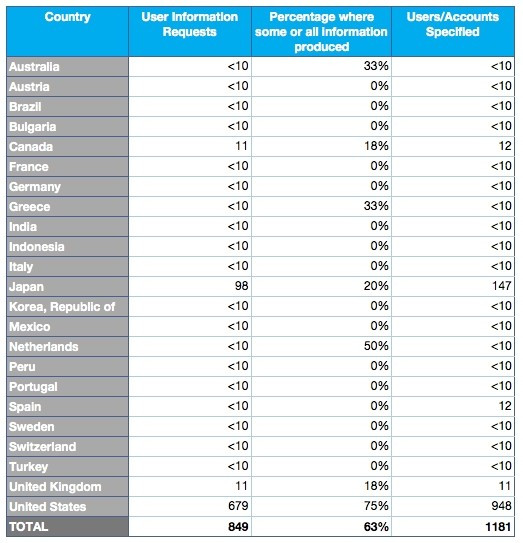 The UK asked for information in 11 cases about 11 users, while the US made 679 requests involving 948 users and accounted for 80 per cent of all enquiries. The data covers the six month period from 1 January to 30 June, 2012 and the company said it would update the information twice a year.
Twitter provided information to UK agencies in 18 percent of the 11 cases, while it turned over data for 75 percent of the US requests. The second largest number came from the Japanese government with 98 requests and Twitter complied with 20 percent of those.
Canada had the same rate as the UK with 11 enquiries and all other countries issued less than 10 requests. "To minimise potential risk to ongoing investigations, we're not including specific numbers for countries where we've received fewer than 10 requests," an official Twitter statement said.
"Same holds true for number of 'Users/Accounts specified' - to minimise potential risk to our users, we're not including specific numbers where fewer than 10 Users/Accounts specified are affected; instead you'll see
Twitter publishes Guidelines for Law Enforcement and said it notified affected users of requests about their account information unless it was prohibited by law. The micro-blogging site said it may not comply with every request.
"For example, we do not comply with requests that fail to identify a Twitter user account. We may seek to narrow requests that are overly broad. In other cases, users may have challenged the requests after we've notified them," a Twitter statement said.
Twitter also released data on formal government requests to remove or withhold content, although these were substantially lower.Three removal requests were made by court order and three came from agencies such as the police, covering 18 user accounts in total.
The UK made one removal request via government agency, although no content was removed. In comparison there were 3,378 requests for the removal of content that infringed copyright over the six month period, resulting in the removal of 5,275 tweets and 599 pieces of media.
The report comes as a New York judge has ordered the release of tweets from an Occupy Wall Street protester accused of disorderly conduct. The social media site has been told to hand over three months of messages from Malcolm Harris after losing a legal challenge.
Twitter had argued that revealing the tweets would violate his fourth amendment rights and it could only disclose the communications after receiving a search warrant. However, the US judge ruled that under federal law a warrant is only needed for the final day's messages and all other tweets can be accessed using a subpoena.
Must Read:
LulzSec Reborn: Anonymous Hackers Breach 10,000 Twitter Accounts
Twitter Files Lawsuit Against 5 Spammers, Claims Damages
Twitter Logins in UK Reach 10m, 80% Use Mobile Phones