Twitter, the phenomenally popular social networking service and micro blogging service, has updated both its iOS and Android app with users now able to enjoy new features like advanced search and a refreshed Discovery tab.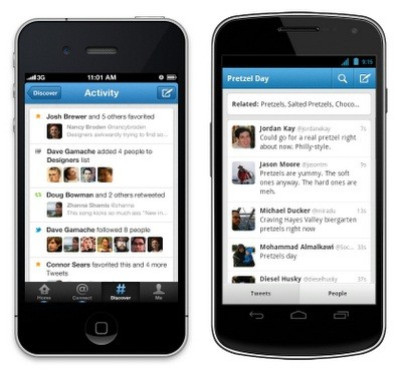 Under the new Discover tab, Android and iOS users can view the Activity feature which is a stream of updates. The updates will show up the tweets which are favourited or retweeted by people. By tapping any story once, the user can view the tweets about a specific trend or news article. The user can read the complete story as well as retweet or join the conversation by replying to the tweet.
The updated app allows easy searching suggesting various spellings and corresponding terms for your queries and should make it easy to find people. The Connect tab will now allow you autocomplete Twitter names by just typing the first name, last name or username of the person you're looking for.
Twitter has added a new feature specifically for iPhone users who will be able to view the most recent queries if they tap the search box in Discover. It also provides a direct link to people's profile when the user searches in Connect.
Twitter has added push notifications for interactions which enable you to know immediately which tweets have been retweeted or favourited, as well as letting you know who has followed you. The latest version of Twitter is now available in the App Store and Google Play for iPhone and Android users respectively.
"The update was a great collaboration between many teams at Twitter including Android, iOS, Discover, Search and others," said Twitter.
"With this update, Twitter is apparently trying to address some of the criticism it faced when it launched its radically redesigned mobile apps in December," claimed TechCrunch.