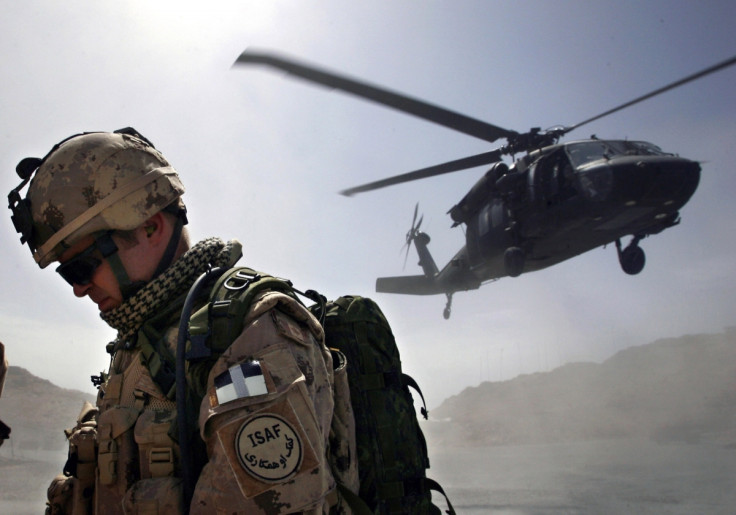 Two Romanian soldiers with the Nato-led force in Afghanistan have been killed in an attack by suspected local police, officials say. Two members of a local police unit, who were being trained by Nato near Kandahar in southern Afghanistan, opened fire on the soldiers on the morning of 7 May in an apparent insider attack.
The Romanian defence ministry said in a statement that two soldiers were rushed to a nearby military hospital following the incident but did not survive, while a third was injured but is now stable.
The two assailants were killed in a fire fight with Nato forces, who have launched an investigation into the incident.
So-called "green-on-blue" insider killings in Afghanistan have gone down in recent years amid more stringent vetting of recruits for Afghan security forces.
Romania has some 650 troops involved with Nato's Resolute Support mission in Afghanistan, which focuses on training and assisting local security forces.
The slain soldiers were identified as First Sgt Iulian Dumitrescu and Sgt Adrian Vizireanu by Romanian officials.
'Deep sorrow'
"I learned with deep sorrow about the death of soldiers who died on duty today while on a mission in Afghanistan," Romanian Defence Minister Mihnea Motoc said.
"Both personally and on behalf of the Romanian military, I convey condolences to their families, friends and comrades in arms."
Samim Khpalwak, a spokesman for the Kandahar governor's office, told Reuters that one Afghan policeman had been arrested in relation to the attack and was being questioned.
The Nato-led coalition in Afghanistan said in a statement that the incident would not derail its training of local security forces.
"We continue to train, advice and assist [Afghan forces], and do not view this incident as representative of the positive relationship between our forces," it was reported as saying.
Nato formally ended its combat mission in Afghanistan in 2014, but maintains a residual force of about 13,000 in the country to carry out training and counter-terrorism operations.