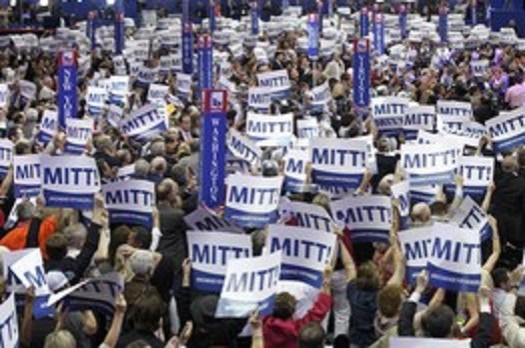 Editor's update: The original article said that the people ejected from the GOP convention were delegates; however, that has not been confirmed.
Two people have been removed from the Republican National Convention (RNC) in Tampa Bay, Florida after they threw nuts at a black CCN camerawoman and said: "This is how we feed animals."
The incident was witnessed by several people inside the Tampa Bay Times Forum and the two attendees were removed by security.
CNN originally declined to comment on the specifics of the incident, but subsequently confirmed a tweet by American broadcast journalist David Shuster which provided full details.
A statement read: "CNN can confirm there was an incident directed at an employee inside the Tampa Bay Times Forum earlier this afternoon. CNN worked with convention officials to address this matter and will have no further comment."
The broadcaster has also published a statement from the RNC, which read: "Two attendees tonight exhibited deplorable behaviour. Their conduct was inexcusable and unacceptable. This kind of behaviour will not be tolerated."
It is not clear in what capacity the attendees were present.
The incident could be an embarrassment for Mitt Romney and his party, as they hope to gain support among African-American voters who by a huge majority back Barack Obama.
The latest NBC News/Wall Street Journal poll shows that Romney currently has the backing of zero percent of Africa-American voters, while 94 percent support Obama.
The RNC began its first full session on 28 August, after being interrupted by tropical storm Isaac.
Romney looks set to accept the Republican party's nomination as its next presidential candidate within hours.