Typhoon Kalmaegi has slammed into northeast provinces of the Philippines, with sustained winds of 130kph (81mph) and short gusts reaching 160 kph (99mph) as the storm moves north-west towards the South China Sea. Cagayan and Isabela provinces are believed to be worst affected by the typhoon, known locally as "Luis".
Several towns were evacuated in preparation for the typhoon, and the National Disaster Risk Reduction and Management Council warned of possible landslides, two-metre storm surges and flash flooding. Last year many of the 8,000 killed by Super Typhoon Haiyan drowned in the surges.
In a live TV broadcast council head Alexander Pama said: "Take proper precautions for your situation and listen to the warnings of your village leaders. Do not wait for the storm to hit you."
Ferry sinking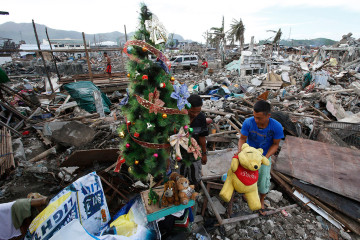 On Saturday the typhoon, combined with monsoon winds, sunk the stalled Maharlika II ferry. One hundred and ten people were rescued by passing ships and three bodies so far have been recovered from the water.
It is not known exactly how many may be missing as only 84 were listed as aboard. The Council said the ferry suffered steering problems "due to big waves and strong current".
"Based on our initial report, two people died and 102 others were rescued by three vessels, including two foreign commercial ships," said Commander Armand Balilo. "We are not sure how many are still missing because it now appears there were more people on board."
Every year around 20 typhoons hit the Philippines. In July almost 100 people died in Typhoon Rammasun.
Typhoon Kalmaegi is now heading for mainland China and Vietnam.
China's state media Xinhua reported that authorities have rescued at least 600 people in Sichuan province and relocated another 23,000 following 18 hours of rain. Seven people are reported dead and three others are missing.