Japan Prepares for 150mph Super-Typhoon Halong
Meteorologists warn that super-typhoon Halong could have devastating consequences when it hits the southern coast of mainland Japan on Tuesday. The Korean peninsula and China may also be in Halong's path.
Currently moving north from the Pacific east of the Philippines, where it has been given the name 'Jose', Halong has been upgraded to a super-typhoon due to maximum sustained wind speeds of 155mph (250kph) – the equivalent to a category 5 hurricane according to the Saffir-Simpson Hurricane Wind Scale.
The Philippine Atmospheric Geophysical and Astronomical Services Administration (Pagasa) says the super-typhoon is moving north and is not expected to make landfall in the Philippines. However, a warning for shipping has been issued.
Weather website AccuWeather warns: "While not impacting (Japan) through at least Tuesday local time, Halong will remain over the open waters of the Philippine Sea and creating life-threatening, dangerous seas for shipping interests."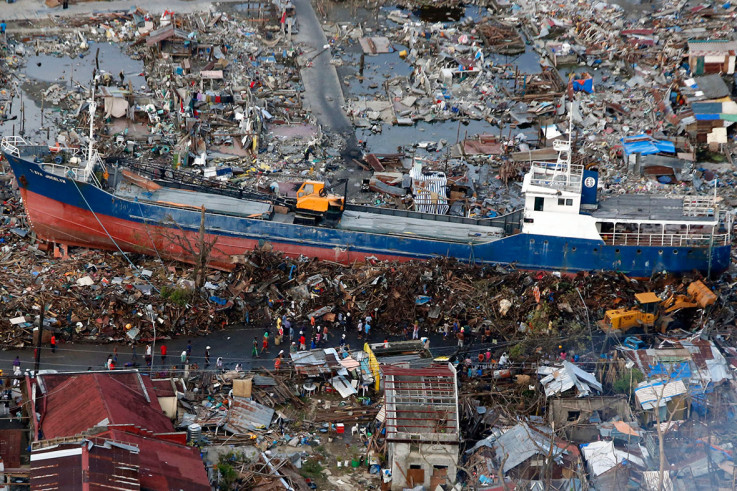 A ship swept ashore by Typhoon Haiyan in Tacloban city
Reuters
Due to favourable conditions such as high sea surface temperatures Halong has not been weakened by wind shear and has, says AccuWeather, "a very well-defined eye along with a robust eye wall."
Some areas of Japan in the typhoon's path are still affected by flooding by Tropical Storm Nakri. Some areas including Kyushu and Shikoku have had more than 10 inches of rain in 24 hours. Super-typhoon Halong could worsen the situation. An evacuation advisory has been issued for half million people on Japan's Shikoku island.
Typhoons, cyclones and hurricanes are essentially the same phenomenon, but are given different names depending on where they are. Halong is 2014's third super-typhoon in the northwest Pacific.
Last month the Okinawa chain of islands was hit by Typhoon Neoguri but no-one is believed to have died. Typhoon Rammasun killed around 33 in China and 11 in Vietnam when it swept ashore also in July. In 2013 more than 6,200 people were killed in the Philippines by Typhoon Haiyan, one of the most powerful storms ever recorded.