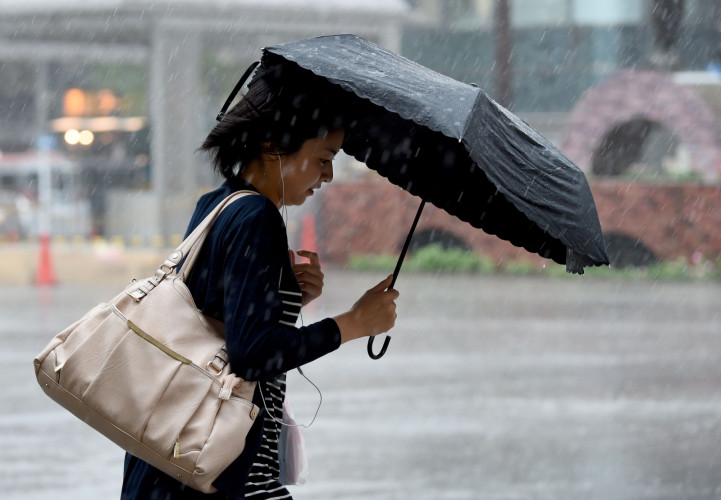 Typhoon Mindulle made landfall near southeast of Tokyo on Monday (22 August) at around 12.30pm forcing airline companies to cancel hundreds of flights. Packing winds of about 166km (103 miles) an hour, the tropical storm was heading towards the north at a speed of 25km an hour from Miyake Island, Japan's meteorological agency said.

Airlines across the country have cancelled as many as 387 flights, mostly to and from Tokyo's Haneda airport. Japan Airlines confirmed that it grounded around 145 domestic flights which affected at least 26,910 customers, while All Nippon Airways had to scrap 96 domestic flights, affecting 21,000 passengers.
The country's weather agency issued warnings of floods and torrential rains for 23 wards of Central Tokyo. A total of 250 millimetres of rain was predicted in the Tokyo area. The met department also gave tornado warnings to Tokyo and the surrounding regions. "In Tokyo... please exercise caution for landslides, flooding in low lying areas, surging rivers, violent wind and high waves," the agency said.
The Prime Minister's office said there were possibilities of landslides and destruction from strong waves.
Tokyo Electric Power Company said that around 7,100 homes were hit by the power cuts in and around Tokyo city. However, train services in the city operated normally during the commute hours in the morning, including the super fast bullet trains, East Japan railway, Japan's biggest railway operator said. Meanwhile, Odakyu Electric Railway Company halted railway services between Tokyo and Hokane, a tourist spot in the south of the capital city. The Yamagata Shinkansen also stopped operating along a line between Fukushima and Shinjo.