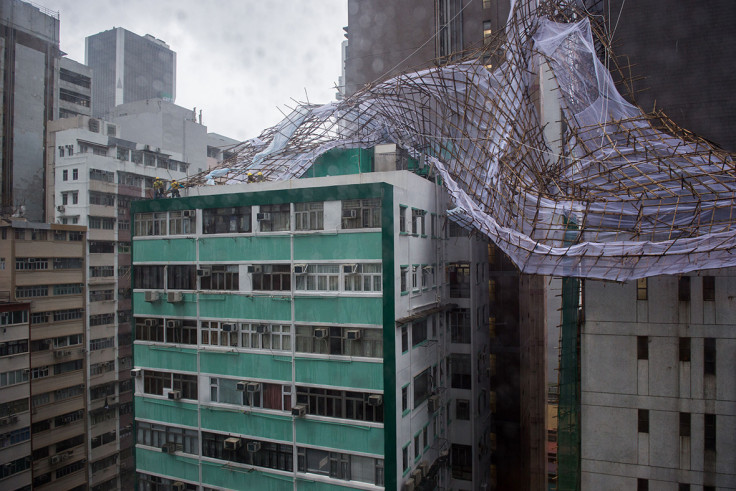 Typhoon Nida brought Hong Kong to a standstill as powerful winds and heavy rain lashed the city in the early hours of 2 August, Tuesday, but no major damage was reported.
Winds of 151 km (93 miles) per hour battered the city, bringing in its wake heavy rain, prompting officials to issue warnings of landslides and floods. The Hon Kong Observatory said the typhoon had weakened into a severe tropical storm and was heading to the inland areas of Guangdong.
The streets of Hong Kong wore an empty look on Tuesday as schools were shut down, workers stayed at home and buses and trains curtailed their operations.
An airports authority spokesperson told AFP that only 325 flights will be operated on Tuesday between 6am and 9pm local time (11pm to 2pm BST). The airport handles about 1,100 flights on a normal day. A passenger heading to Australia told Now TV: "I came here at 6:00 am but the counters have closed... there have been no notifications at all."
As the storm swept across Hong Kong and was ready to make landfall in Southern China, several cities in the Pearl Delta region braced themselves for the impact.
The city of Guangzhou in China issued its first-ever red alert, which is the highest level alert. People in Guangdong province have been asked to stock up on food and other essential supplies. He Guoqing, a local official, told Xinhua news agency: "It's the strongest typhoon to hit the Pearl River Delta since 1983 and will bring severe flooding."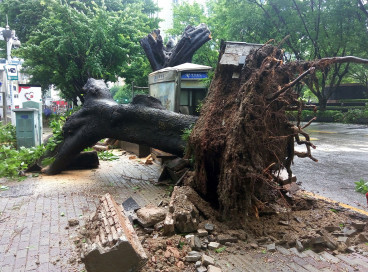 Schools, factories and everything else have been shut down and people have been advised to stay at home. The Guangzhou Railway Corporation said all trains leaving from Guangdong would be cancelled, affecting thousands of passengers.
Before the storm hit on Tuesday, at least 220 flights from Guangzhou, Shenzhen and Zhuhai airports were cancelled.
China's State Oceanic Administration (SOA) issued a red alert for ocean waves and storm tides, saying that waves of up to 11 metres high could be possible, off the coast of Guangdong province.
The China Meteorological Administration said in a statement: "The typhoon will land in Guangxi province at dusk today and it will weaken and be categorised of tropical low pressure at night."