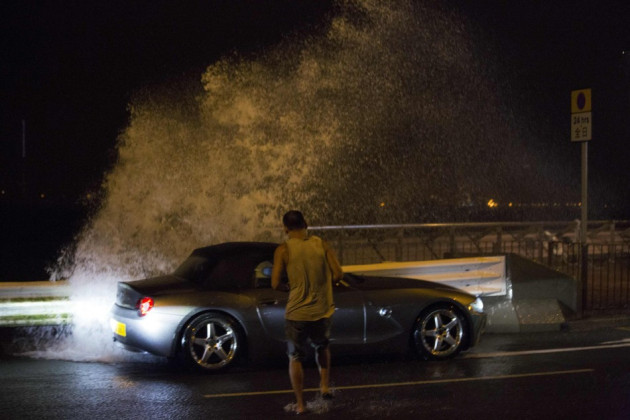 Typhoon Usagi has killed at least 25 people after making landfall in Southern China.
Hong Kong remains on high alert, even though the huge storm has veered away from the Asian financial hub.
The strongest storm to hit the western Pacific this year slammed into the Chinese coast at around 8pm local time, the Xinhua news agency reported.
The typhoon has claimed most of its victims on China's southern coast. As many as 13 people have been killed in Shanwei, Guangdong province, alone.
In Hong Kong, the effects of the typhoon are not as severe as feared, but more than half a dozen people have been admitted to hospitals due to typhoon-related injuries, reports said.
All forms of transport have been disrupted in southern China, with roads washed away, power lines blown off, tens of thousands of people evacuated and several schools and businesses closed.
In Hong Kong, the authorities had announced the closure of financial markets for at least the morning session and the shutdown of all forms of transport as they kept the highest alert guidance. However, the Wall Street Journal reported that the storm has eased and that transport services have resumed.
The city had been bracing for a 124mph storm, but the typhoon unexpectedly changed course to barrel towards the north.
With hundreds of flights cancelled, the storm has thrown life into disarray across the region. The mid-autumn festivities in Hong Kong, China, South Korea and Taiwan have all been badly affected.
China's National Meteorological Centre maintained its highest level of alert and said the storm would weaken as it moves northwest.
However, the weather office has forecast that southern China remains under threat, with heavy rains and landslides likely to occur in Fujian and Guangdong as well as Taiwan.
Although the southern coast is the worst affected, normal life in China has been thrown out of gear with all bullet trains from Guangzhou to Beijing being suspended.
Earlier, hundreds of flights from Hong Kong to mainland cities had been cancelled.