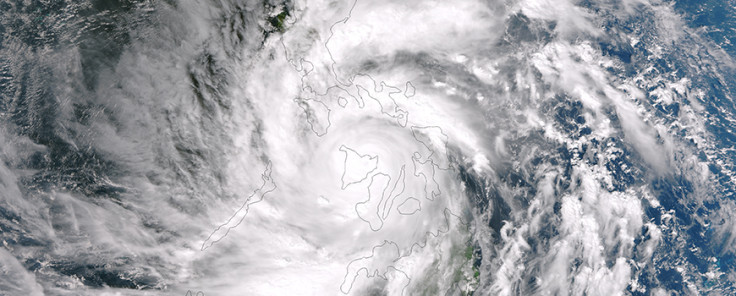 Even a moderate emission scenario can increase the intensity of typhoons like Haiyan by 14%, besides making them more frequent, says a new analysis.
Haiyan, which devastated the Philippines in November 2013, was one of the strongest ocean storms ever recorded, killing at least 6,300 people.
Nasa, the National Science Foundation and NOAA-funded study, led by researchers at the Scripps Institution of Oceanography, UC San Diego, found that ocean temperature was the strongest influencing factor in determining the intensity of storms.
The unusual upper ocean warming rates over the low-latitude northwestern Pacific have already intensified storms in the region as the warmer water provides more fuel for storm intensity.
The study covering 850 typhoons in the western Pacific region found the intensity of the damaging storms has increased by about 10% since the 1970s, said Wei Mei, the lead author of the study.
The team used a climate model that projects carbon dioxide-equivalent levels will reach 550 parts per million by 2060, up from the present 404 ppm level.
The intensity could go beyond 14% rise for emissions beyond that.
The study projects that by the year 2100, the temperature of the upper ocean will be more than 1.6 degrees Celsius higher than the baseline average of the 50-year period from 1955-2005.
The study appears in the journal Science Advances.
Storm intensity
The team looked at storm intensity as composed of two aspects – rate of acceleration and intensification duration.
They found that ocean temperature most strongly correlated to the rate of cyclone intensification, compared to atmospheric factors such as wind shear, atmospheric pressure and vorticity.
The strength and duration of a cyclone depend on pre-storm sea surface temperature and difference in temperature between the surface and subsurface.
A warmer sea surface generally provides more energy for storm development but this can be offset by a large change in temperature from the surface to subsurface. Strong winds can churn the waters and bring cold water up and cool the surface.
The authors showed that in the current climate scenario, both factors contribute nearly equally.
But with warming, sea surface temperature change dominates, because the subsurface ocean warms at a similar pace as the surface, resulting in a modest temperature gradient.
"Our findings provide the first observational evidence for the dominance of upper ocean thermal structure in the interannual-to-decadal variability of typhoon lifetime peak intensity," said co-author Shang-Ping Xie, the Roger Revelle Chair in Environmental Science at Scripps.
El Niño conditions where rising sea surface temperatures in the Pacific Ocean is transferred to land by the wind are being cited for the recent flooding in Texas. El Niño shifted the location of the subtropical jetstream in this case.
Warmer temperatures mean the air can hold more moisture and make storms stronger. While climate change does not cause these events, it worsens them.