Tyson Fury says he will emulate Muhammad Ali as he reveals Anthony Joshua's weaknesses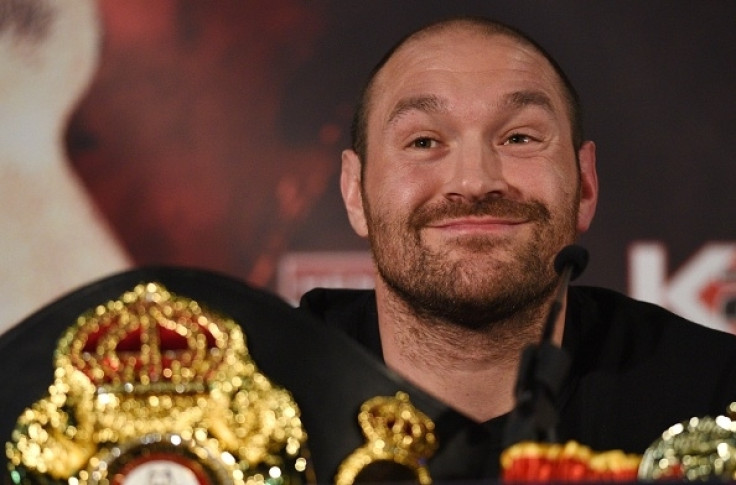 KEY POINTS
Fury and Joshua could end up facing each other in a dream fight in 2018.
The two Britons have a combined 45-0 professional record.
Tyson Fury has hit back at Anthony Joshua by revealing the heavyweight champion's weaknesses and how he would beat him in a potential fight.
The two unbeaten Britons have been trash-talking each other on Twitter ever since it emerged that they could face off in a highly-anticipated fight in 2018.
Joshua, who defended his WBA and IBF heavyweight titles against Carlos Takam on 28 October, recently claimed that Fury was a "nut-job" but that a fight between the two would be a gruesome war in which he would emerge as the winner.
"Fury is tall and I think he's a bit of a nut-job, to be honest with you," Joshua said. "I think he's just got a bit of a screw loose."
"Any man with a screw loose even if it is just in business, they just have a little something that you can't put your finger on.
"So with Fury it would be tricky to figure him out. And Fury would be a real breakdown job, a real gruesome type fight. Kind of like that Klitschko fight – I'll go to hellfire and back to get the win."
The "Gypsy King" on the other hand, disagrees, as he revealed Joshua's weaknesses and why he is a bad matchup for "AJ".
"He [Anthony Joshua] doesn't have great footwork or upper body movement, and he doesn't move too good on angles," Fury stated, as quoted on BoxingScene.
"To meet a fighter like myself who does have good footwork, does have good lateral movement, and can move on angles, that equals disaster.
"With me being knowledgeable about boxing and heavyweight boxing – I study it and I have done for many, many years – I understand how I have to beat these guys."
Fury, the former unified champion, has always compared himself to Muhammad Ali as he made the reference again, adding that all he has to do is make Joshua gas out by missing his punches.
"To beat someone with those attributes it would be hard but someone of my ability can move, box, and twist, and all I would have to do is make him miss a bit," Fury explained. "As we saw against Wladimir [Klitschko], he blew a gasket trying to land his punches.
"You just have to go back to [Muhammad] Ali and [George] Foreman – the big puncher against the big mover. I think boxing, especially heavyweight, is a chess match. More of a brains match rather than who is the strongest or quickest."
Fury, however, has not featured in the ring since defeating Wladimir Klitschko in November 2015 after his boxing licence was revoked by the British Boxing Board of Control (BBBofC) over a failed drug test and him admitting to using cocaine.
The 29-year-old is currently awaiting the UK Anti-Doping body's hearing set for December but is back in the gym training and most recently signed an advisory deal with MTK Global as he seeks to complete a return to boxing.