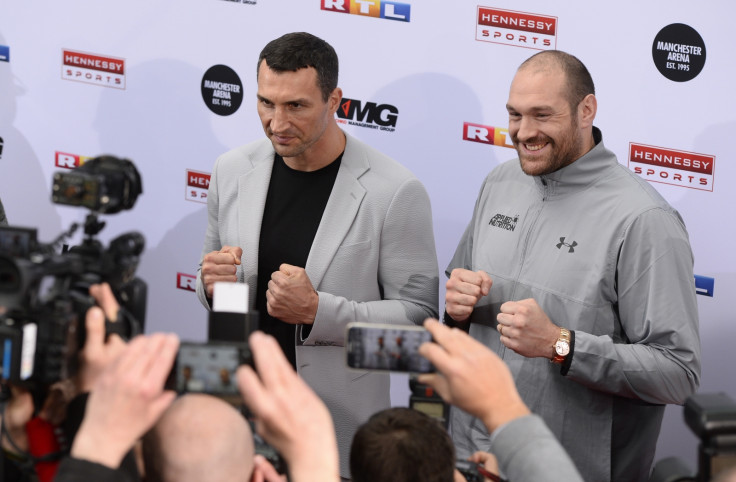 Wladimir Klitschko claims his world heavyweight title clash with Tyson Fury could be called off because of the Briton's alleged attempts to repeatedly change terms of the fight contract.
Fury, 27, brought an end to Klitschko's 11-year undefeated streak to win the WBA, IBF and WBO heavyweight belts when he was awarded an unanimous points decision win in Dusseldorf in November 2015.
The 40-year-old Ukrainian heavyweight was quick to exercise a rematch clause, but an initial date in July was shelved after the Manchester-born fighter suffered an ankle injury in training. A new date was set for 29 October at the Manchester Arena, but the challenger now claims it is in danger of being cancelled completely, with the pugilist having been forced to go to court.
"Dear fans, I just want to keep you updated on the status of quo of my rematch with Tyson Fury," Klitschko said in a video posted via his social media channels. "Unfortunately, Fury is trying to change terms of an already signed contract multiple times and it going on endlessly. To protect my own rights, I am forced to go to court."
In an interview with Boxing News Online, Klitschko's manager Bernd Boente claimed the Fury camp had tried to change the "financial conditions" of the contract.
"They want to change the details in the contract – obviously we cannot discuss that publicly, but as you know, we have already done press conferences in Manchester, in Cologne.
"Now Team Fury wants to change many parts of the contract, important parts, financial conditions, etc, and now I think we have to make sure that we implement our rights and so we have to go to court in Germany because the contract is under German jurisdiction. We have enforced our rights, and that is what we will do now."
Boente also suggested the matter could still be settled out of court, but took a pessimistic view of that happening, having been unimpressed with Team Fury's conduct throughout the fight negotiations. He described their latest demands as "absolutely impossible."
"I don't know [if the fight will happen in October], it depends on the ruling and maybe ongoing discussions with Team Fury because our door is always open, but I doubt it because these are absolutely impossible demands they have. For us, it is a breach of contract and now we have to take action."
This latest impasse is the latest in a growing list of headaches that have persistently cast doubt on the rematch taking place. In addition to Fury's ankle injury, a Sunday newspaper alleged in June the 27-year-old tested positive banned anabolic steroid nandrolone, claims Fury and his promoter Mick Hennessy have vehemently denied.