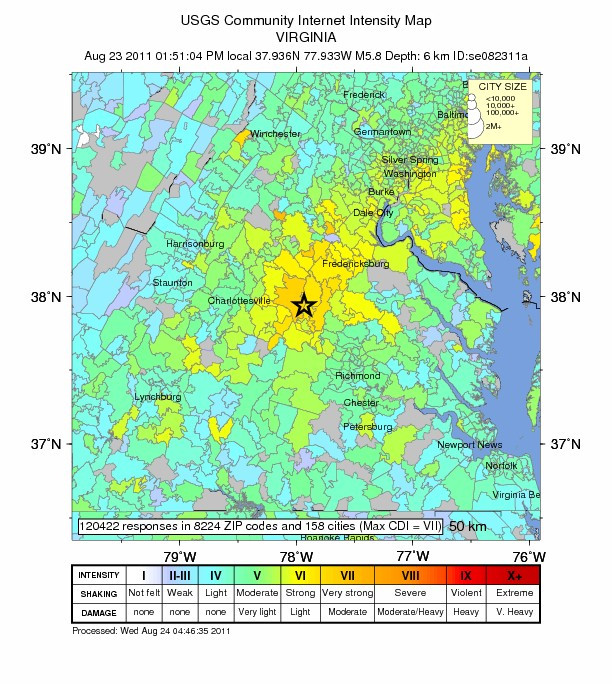 People on the East Coast of the Unites States are still rattled after a rare magnitude-5.8 earthquake centred on the state of Virginia.
The Pentagon and the U.S. Capital were evacuated and the National Cathedral was damaged, as was the Washington Monument, while two nuclear reactors were taken offline near the epicentre of the quake but were undamaged.
Reports said the tremor was also felt as far north as Boston, in North and South Carolina in the south, and in Indianapolis and Detroit.
The quake struck some 84 miles (135km) southwest of Washington, at a depth of 3.7 miles (6km), and its epicentre near Mineral, Va., the U.S. Geological Survey said
The quake was the most powerful quake to hit the U.S. East Coast since 1897, according to USGS records, and three aftershocks have already been recorded.
The earthquake shook Washington, D.C., for about 30 seconds, causing office buildings to sway and houses to shake, while schools and an embassy building were reportedly damaged.
Workers were immediately evacuated from the buildings and key government institutions were cordoned off by police.
President Barack Obama, who is vacationing in Martha's Vineyard, Mass., was briefed on the quake by his staff, the White House said.
The quake also caused travel disruption as flights from New York's John F Kennedy and Newark airports were delayed but later allowed to resume.
Flights out of Reagan National Airport in Washington were also put on hold, but normal service was also resumed soon after the quake.
The AFP news agency said procedures put in place after the 9/11 attacks were activated in New York after the quake with police actively guiding people to parks and making sure they stayed away from tall buildings.
One witness told AFP she saw a Wall Street skyscraper "shaking like a tuning fork," while another said the building he was in "shook like mad," adding that people around him were scared.