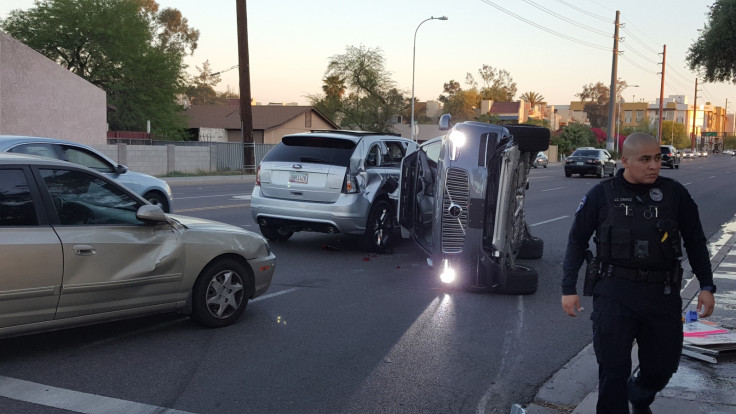 Uber has resumed its self-driving car tests, days after one of the company's modified Volvo SUVs flipped over in Tempe, Arizona, after it crashed into another car being driven by a human driver. The company had temporarily grounded its entire self-driving fleet after the accident, but an Uber spokesperson confirmed that testing in San Francisco had resumed.
"We are resuming our development operations in San Francisco this morning," the company told Reuters. The company said it will also resume its tests in Tempe and Pittsburgh soon.
The crash was deemed to be the human driver's fault who was driving a Ford Edge. A driver and an engineer were present on the front seats of the Uber Volvo SUV and the back seat was empty, but no one got seriously injured in the crash. Police investigation even cleared Uber's Volvo SUV of any negligence.
Since the crash took place in Arizona, Uber got a speedy clearance compared to California, which has stricter rules governing autonomous vehicles. In fact, owing to these strict rules, Uber moved most of its self-driving car tests to Arizona in December 2016 as the California Department of Motor Vehicles revoked Uber's autonomous testing permits. Although they reissued a limited permit in March, only two self-driving Uber cars in San Francisco have it, the same ones that will now resume tests.
Last week's collision was the latest in a series of PR crises surrounding Uber ranging from ex female employees accusing the company of blatant sexism to another employee filing an HR complaint about CEO Travis Kalanick and others going to a South Korean escort bar for a team outing. The ride-sharing company is also facing a Google lawsuit alleging it stole its autonomous driving tech.