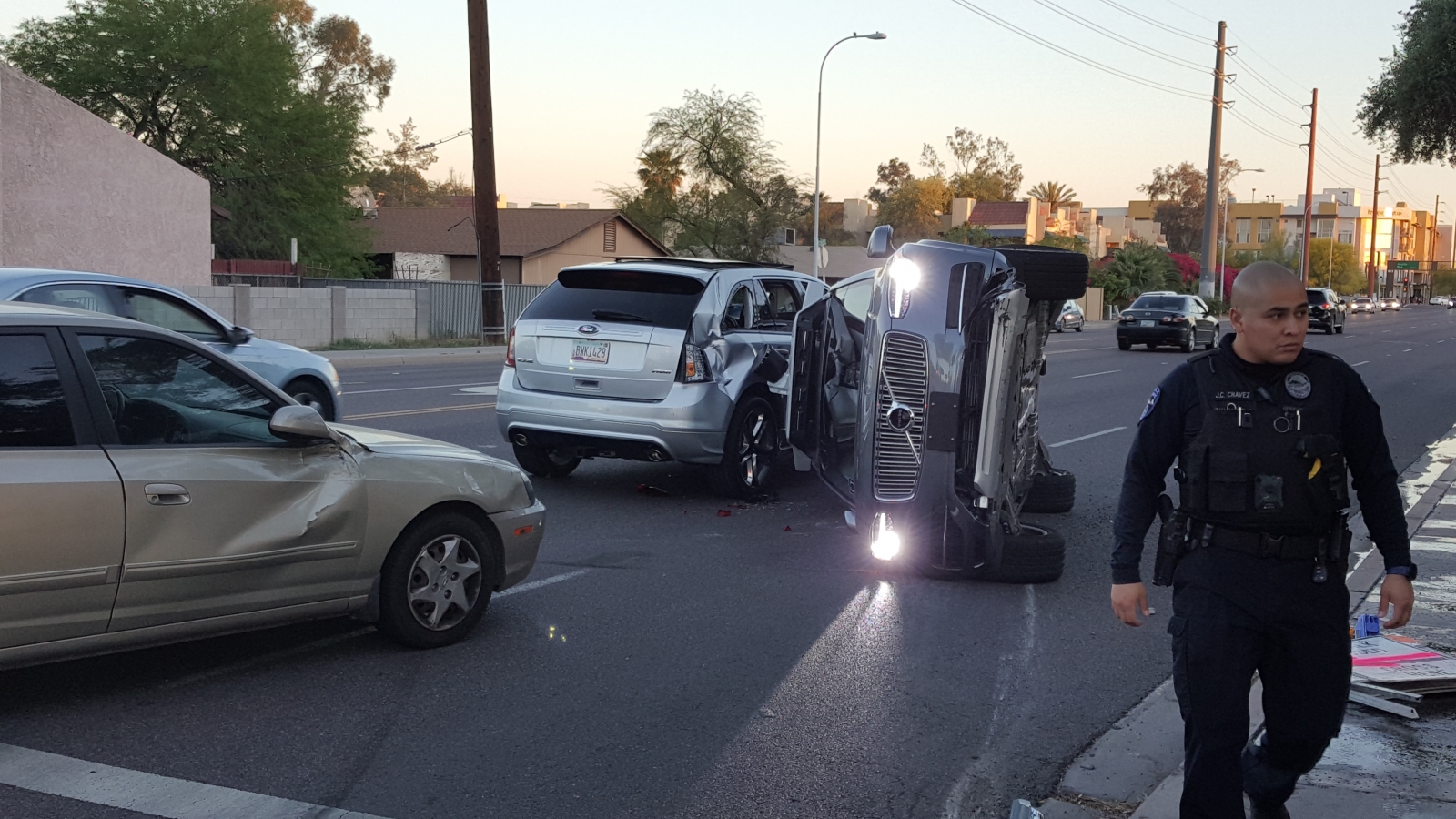 Uber has taken its fleet of self-driving cars off the roads following a serious crash involving one of its autonomous vehicles in Tempe, Arizona. According to local reports, the crash occurred when the driver of another vehicle "failed to yield" to one of Uber's Volvo self-driving SUVs while making a turn and hit it.
A photo posted on Twitter shows the autonomous SUV pictured on its side next to two other damaged cars with dents and shattered windows. The company confirmed the accident and said it would be halting its self-driving car pilot programme in Arizona, Pittsburgh and San Francisco to investigate the crash. Local police said the driver of the other car was cited for a moving violation. However, no serious injuries were reported in the accident.
"We are looking into this incident," an Uber spokeswoman told Reuters. Two 'safety' drivers were in the front seats of the self-driving vehicle with no passengers in the back seats. The vehicle was operating in self-driving mode at the time of the crash, the spokeswoman said.
Uber began testing its autonomous car fleet in Pittsburgh, Pennsylvania last year before expanding to Arizona, and briefly in San Francisco. Its self-driving cars were later forced off the roads of California by the Department of Motor Vehicles for not having a valid permit.
When Uber launched its self-driving testing programme in Pittsburgh last year, the firm said its autonomous cars "require human intervention in many conditions, including bad weather".
"Even when these technology issues get fixed, we believe ridesharing will be a mix - with services provided by both drivers and self-driving Ubers," the company said at the time. "This is because of the limits of self-driving software and the skyrocketing demand for better transportation which people-powered transport is uniquely able to solve."
Uber said self-driving cars had incredible potential to reduce the number of traffic accidents, free up to 20% space in cities used to park cars and cut down on congestion.
However, internal documents recently obtained by Recode revealed that Uber's self-driving car tests found that its vehicles required human intervention every mile.
The collision comes amid a whirlwind of controversies surrounding the troubled company in recent months. Since the beginning of the year, Uber has been hit with a series of crises including a damaging #DeleteUber campaign after it was accused of breaking a protest called by taxi drivers in New York City against Trump's controversial immigration order. CEO Travis Kalanick quit Trump's economic advisory council shortly after following pressure from drivers and customers.
In February, former engineer Susan Fowler accused the company of sexual harassment in a scathing blog post that detailed a toxic work culture at Uber. The company hired former US Attorney General Eric Holder to lead an independent investigation into the allegations.
Google's Waymo slapped Uber and its autonomous trucking subsidiary, Otto, with a lawsuit later in February accusing the firms of stealing their self-driving technology to further its own autonomous car efforts.
A recent video also emerged showing Kalanick yelling at an Uber driver over fares, prompting the 40-year-old executive to issue a public apology and admit that he needs leadership help. Uber is currently actively searching for a new chief operating officer to help Kalanick steer the company as his No 2.
Uber has also been hit by a slew of executive departures over the past few weeks including its president Jeff Jones who quit just six months after joining the company.
The Uber recently leadership promised to clean up its alleged sexist and toxic work culture and discussed some of the various changes it plans towards achieving the goal. Chief human resources officer Liane Hornsey said the company will release its first diversity report by the end of March.