In a massive fail, a mysterious Twitter account which successfully predicted the UEFA Champions League Second Round draw got all of its predictions for the quarter-final completely wrong.
Under the username @uefacorruption, an anonymous tweet wrote "Ready?" before claiming that "the quarter-final Champions League draw are as follows".
However the account, which had 21,000 followers, failed to successfully predict even one tie, with all matches different to the predictions.
In reaction to the failed draw, the account simply tweeted:
Atletico Madrid were paired off with Barcelona instead of Paris Saint-Germain while Bayern Munich will face Manchester United instead of Barcelona, the heavyweight tie predicted by the account.
The posts received thousands of retweets as people began to believe that the account was authentic after the successful Second Round draw prediction.
Some Twitter users have speculated that whoever is behind the account has set up various profiles, covering every potential draw outcome before deleting the incorrect forecasts and leaving the one correct account up.
Uefa's hierarchy are no stranger to corruption allegations, with the Malaga president Abdullah Bin Nasser Al Thani claiming his side were knocked out of last season's Champions League due to "corrupt Uefa".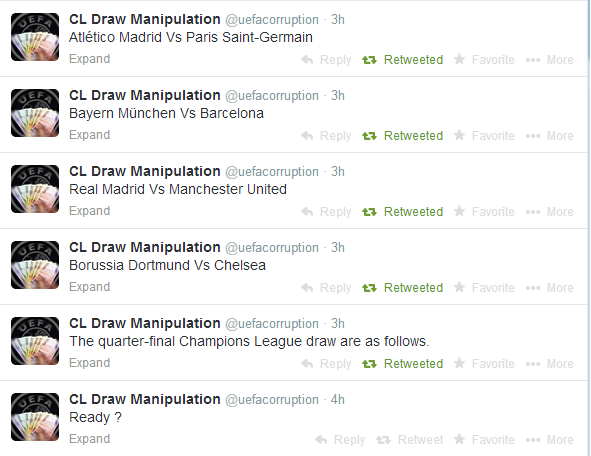 The actual UEFA Champions League Quarter Final draw:
Barcelona v Atletico Madrid
Real Madrid v Borussia Dortmund
PSG v Chelsea
Bayern Munich v Manchester United