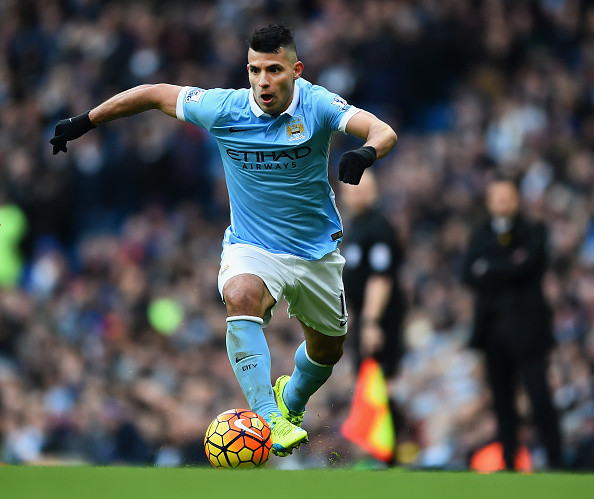 Sergio Aguero has ruled out a return to La Liga in future, reiterating his desire to hang his boots up following a spell with childhood side Independiente after he leaves Manchester City. The Argentina international also expressed his hopes of avoiding Barcelona and Bayern Munich in the Champions League quarter-final, and shared details of a revealing conversation with Lionel Messi about upcoming City boss Pep Guardiola.
Aguero had been connected with a move to Real Madrid and Barcelona in recent transfer windows. He excelled for Atletico Madrid during his time in La Liga, before completing a switch to the Etihad Stadium in the summer of 2011. The 27-year-old, however, has told Cadena Ser he is determined to fulfil his current contract at Manchester City before moving back to Independiente, where he made his debut as a 15-year-old.
"No, I will not return to Spain, I already said that I will go back to Independiente. I am very happy here and I already said that when I finished my contract with City I will go straight back to Argentina," Aguero said.
City are in the Champions League quarter-finals for the first time in their history, following a 3-1 win on aggregate against Dynamo Kiev. Aguero was happy with the result, admitting he is not keen on facing Barcelona and Bayern in the next round.
"We are very happy for being in the quarter-final for the first time. City are a team to be up there. We are very happy."
City failed to reached the quarter-final in the last two seasons, having been knocked out by Barcelona in the round of 16 on both occasions.
"If you want to go far in the competition you have to face the best teams. But obviously Barcelona and Bayern are the two best by form, and if we can avoid them all the better – but at some point we will have to face them.
"For the last two years we have had to play against Barcelona and they are a very tough opponent, they are always favourites to win the Champions League. It's difficult, but we are happy to fulfil our goals [of going through]."
Aguero also revealed that he has spoken to compatriot Messi about the arrival of Guardiola, adding he hopes the Spanish boss brings to him the same success than to his fellow Argentine.
"I don't know Guardiola. We are waiting to finish the season in the best possible way and then we will start with him," he said. "[I spoke with Messi] before the appointment. Obviously Guardiola was very good for Leo as a coach because they won many things together. We are waiting for his arrival."