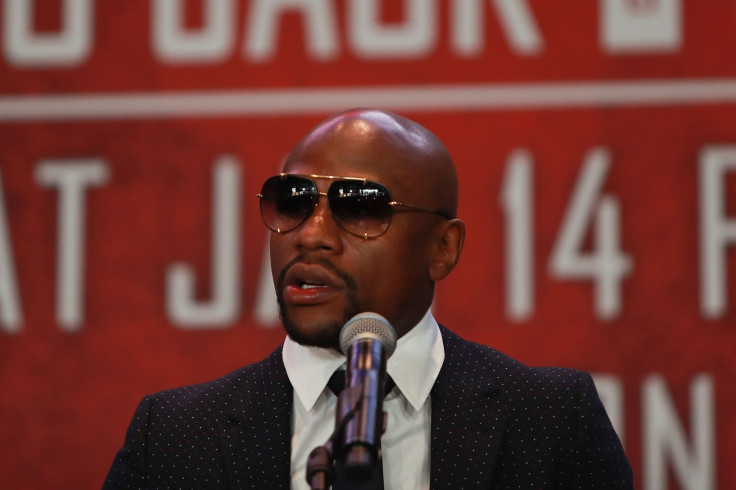 Floyd Mayweather Jr has called on Conor McGregorto get in touch to kickstart negotiations regarding a high-profile boxing bout between the two fighting megastars. Excitement over a potential clash reached fever pitch earlier this week, when The Irish Sun revealed that the respective camps had finally settled on terms for a multi-million dollar clash.
Those reports claimed that only an unspecified third party hold-up was preventing the contract from being signed. However, the unbeaten Mayweather, who called time on his illustrious career in September 2015 following a 49th professional victory over Andre Berto, emphatically dismissed that speculation last night (14 February) by insisting publicly that he remained happily retired and that there have been "no deals made on my behalf in regards to a bout with any fighter".
UFC president Dana White, who is evidently unwilling to let such an event happen without involvement from the world's leading MMA promotion, also confirmed to TMZ that no agreement had been reached.
Taking to Twitter again on Wednesday, Mayweather said: "Listen, Conor McGregor, if you really want to get this fight done...take care of your business with the UFC and then have your people get in touch with my people."
The brash McGregor subsequently aimed a dig at his rival, proclaiming that Mayweather had retired upon his arrival in Las Vegas. "The Notorious" cancelled an event in Dublin and flew to Sin City this week in order to meet with Nevada State Athletic Commission executive director Bob Bennett and chairman Anthony Marnell III to request a potential new hearing with regards to the punishment he received for his role in a pre-UFC 202 press conference bottle-throwing row with Nate Diaz.
McGregor, who petitioned the Nevada court for a judicial review in December, was hit with a $75,000 fine and ordered to complete 50 hours of community service in addition to producing an anti-bullying video. Now legally able to box in California, the 28-year-old's request for a Nevada license was rejected amid those disciplinary issues. He obviously would not be able to fight Mayweather in Vegas without one, although that aforementioned meeting is said to have been "very cordial and productive". A request for a rehearing will be heard by the Commission on 24 March.
Discussing a potential contest against Mayweather during a recent interview with GQ magazine, McGregor defiantly stated that no-one could stop him from pursuing it.
"Honestly, my fist is bigger than his head," he added. "I sleep people. I put people unconscious. I'm stating facts. If I hit that man, his head is gonna go into the bleachers. You understand that? If I crack that little head of his, it's gonna go clean off his shoulders and up into the bleachers."