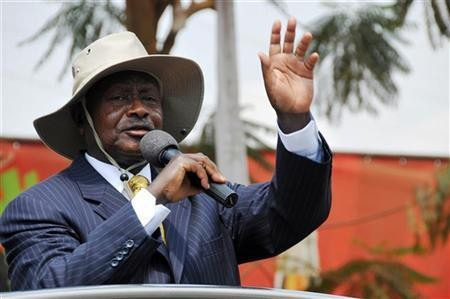 Inmates in Ugandan prisons are subject to brutal compulsory labour, frequent violence, miserable overcrowding, and disease, Human Rights Watch said today in a report examining conditions in 16 prisons throughout the country.
Revealing horrendous custodial conditions for over half of the prisoners, the organisation says that may are held for years without having been convicted of any crime.
The report directly incriminates prison personnel by saying that in most cases, profits from prisoner labour benefit individual prison officers, while prisoners are forced to suffer from illnesses caused by inadequate food and water, and a lack of basic hygiene.
The 80-page report, "'Even Dead Bodies Must Work': Health, Hard Labour, and Abuse in Ugandan Prisons," documents routine physical abuse and the failure of the criminal justice system to protect the rights of prisoners.
It explains how prisoners in rural prisons, including the elderly, individuals with disabilities, and pregnant women, are frequently caned, or are even stoned, handcuffed to a tree, or burned, when they refuse to perform hard labour.
Meanwhile it also say that HIV and tuberculosis (TB) patients may be denied care by being sent to farm prisons which are located far from treatment programs. As the country has officially stepped up its fight against HIV and increased prevention programs and access to treatment, the latest revelations could directly affect the relationship between Museveni's government and aid donors.
"Prisoners in Uganda, many not convicted of any crime, are brutally beaten and forced to work under conditions resembling slavery," said Katherine Todrys, a health and human rights researcher at Human Rights Watch and one of the authors of the report. "Few prisoners with HIV or TB get adequate health care, risking their lives and the development and spread of drug-resistant strains."
Treatment for both diseases is available at only one prison medical facility in the entire country. "Help us, we'll die," wrote 10 of the prisoners at Muinaina Farm Prison in a note to Human Rights Watch, the reports says.
Every year 50,000 people pass through Uganda's prisons, and while conditions in a few regional prisons have improved in recent years, conditions and treatment in rural prisons amount to cruel, inhuman, and degrading treatment and even torture, as demonstrated by Human Rights reports.
Fifty-six per cent of Uganda's prisoners - over 17,000 people - have not been convicted of a crime and are locked up awaiting resolution of their case, sometimes for years.
As a result, overcrowding is endemic in Ugandan prisons and Human Rights Watch says that one of the prisons visited was filled to 32 times its intended capacity.
Prisoners sleep on their sides or in shifts. The food is insufficient, and nutritional deficiencies leave inmates vulnerable to infections while sex is traded by the most vulnerable inmates to other inmates for food.
With clean water frequently unavailable and boiled water a commodity sold by inmates at some prisons, disease spread quickly and according to the rights group the prevalence of both HIV and TB is thought to be almost twice the rate in the general population.
Human Rights Watch also affirms it found multiple incidents where prisoners had been stripped of their clothing and put into small, dark, cells, the floors covered with ankle-deep water, where they were given minimal food. "They hit me so hard, I was crying blood," said one inmate, describing a beating by prison wardens and other prisoners, according to the document.
Human Rights Watch called on the Ugandan government to issue direct orders to halt forced prison labour for private profit, to discipline prison officers for abusing prisoners, and to establish guidelines for the immediate referral of all prisoners with confirmed TB or HIV to facilities where they will receive treatment.
After Museveni was re-elected this year health donors have increased their funds, leading to questions as to why the government has allowed such degrading and inhuman conditions to persist.