The UK's average broadband internet connection speed is 11.1Mbps and the average peak speed is 46.6Mbps. This is a 33% improvement year-on-year, according to the Akamai Q2 2014 State of the Internet Report.
This means the UK firmly beat the Q2 2014 global average connection speed of 4.6Mbps, and the global average peak connection speed of 25.4Mbps.
The UK is ranked 16th in the world for average speed, and 15th for peak speed, nestled firmly among its European peers.
Akamai defines "high broadband" as connection speeds greater than 10Mbps, and "broadband" as connections of greater than 4Mbps.
In terms of high broadband penetration, the UK ranks 15th in EMEA with 36% of connections at this grade. The UK has 86% of its Internet connections meeting the broadband grade.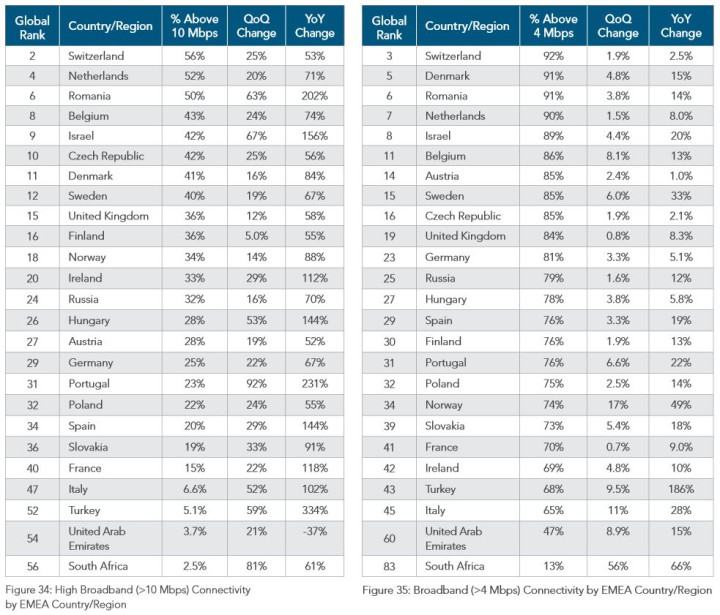 Fastest Broadband Countries in EMEA
Across the Europe, Middle East and Africa (EMEA) region, the fastest average internet connection speed crown belongs to Switzerland with an average speed of 14.9Mbps. Israel ranks top in the peak speed arena with 68.6Mbps.
South Africa was the worst performer in both categories, registering an average internet connection speed of 3Mbps, and peak speed of 13.2Mbps.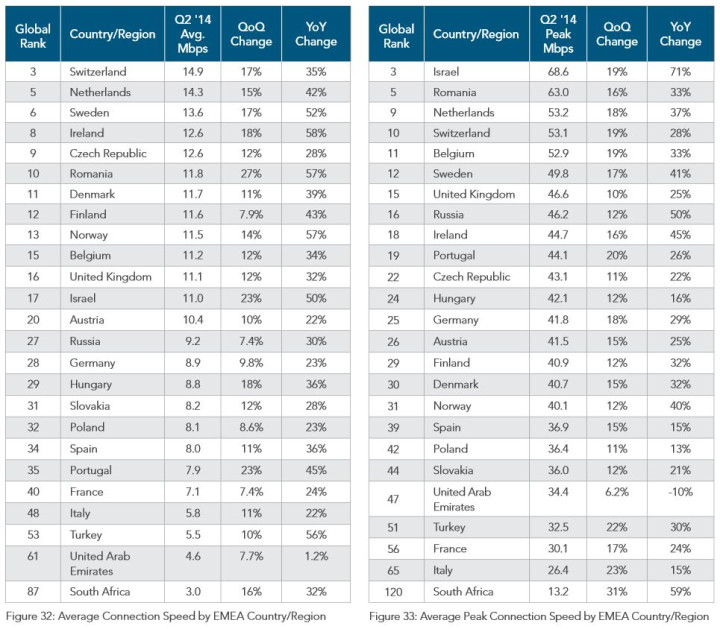 The Akamai State of the Internet reports uses data gathered from across the Akamai Intelligent Platform, one of the world's largest distributed computing networks.