Osborne's Budget 2013: Beer Duty Cut Can't Mask UK's Slashed Growth Forecasts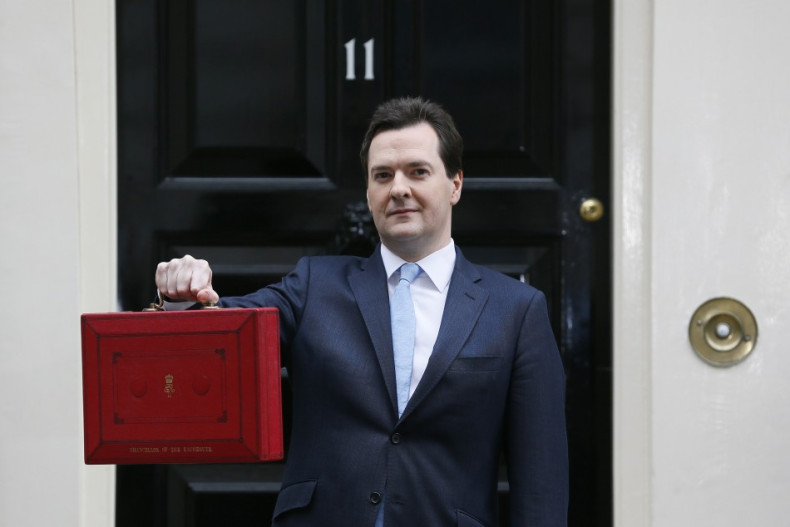 Chancellor George Osborne appeared to be choking on his own Budget when he spluttered midway through delivering the news that the economy is facing yet more austerity, higher public debt, and another batch of slashed growth forecasts.
Small drops of goodwill - such as a penny off the beer tax, a tax break for working couples to help them pay childcare costs, and additional help for those buying a new home - were overshadowed by the Office for Budget Responsibility's halved estimate for economic growth in 2013, which has been cut to just 0.6 percent for the year.
"Today, I'm going to level with people about the difficult economic circumstances we still face and the hard decisions required to deal with them," Osborne told the House of Commons, to jeers from the opposition benches.
"It is taking longer than anyone hoped, but we must hold to the right track, and by setting free the aspirations of the nation, we will get there."
Osborne reported in his near hour-long speech that the OBR now predicts the UK economy will grow by 1.8 percent in 2014, rising year on year to 2.8 percent in 2017.
He pointed to the continued crisis in the eurozone as the dominant reason for the UK economy's turmoil, because Europe is the destination for around 40 percent of the country's exports.
"There is a huge effort across this government to grow Britain's trade with the fast growing parts of the world - and exports to Brazil, India and China are up almost two thirds," he said.
"UK firms now export more goods to non-EU countries than to EU countries: the first time this has happened in over two decades.
"But we are still very exposed to what happens on the continent."
Austerity and public debt
Spiralling debt has stemmed from the government's need to borrow more to maintain its already-cut spending levels. Lower-than-forecast output has hit tax receipts, leaving the Treasury little choice but to turn to market investors to meet its spending obligations.
Osborne was forced to tell the country that debt as a portion of GDP would keep rising to a peak of 85.6 percent in 2016/17. It will then fall the year after, two years later than the original fiscal target he set himself in 2010.
Because of this, Osborne has said deeper cuts to the public purse must be made. On top of the billions already slashed, a further 1 percent is being stripped away over the next two years from departments not ringfenced from austerity.
"If you want to bring borrowing down, then you have to control spending - and that is what we have done," said Osborne.
The chancellor, whose position is increasingly in jeopardy as the economy continues to wane on his watch, also said the public sector pay freeze would be extended by another year, to 2017. Under the pay freeze, public sector wage increases are capped at 1 percent a year.
This is effectively a wage cut when you take into account the current rate of inflation at 2.7 percent.
The cuts Osborne has made are being used to fund £3bn of infrastructure investment, starting in 2015. He described funding investment in one area with spending cuts elsewhere as "fiscally neutral".
Duty cuts and taxation
In a move that reaps more political than economic benefit, Osborne scrapped the beer duty escalator - which increases tax on beer by 2 percent above RPI inflation each year - and took 1p off of the price off a pint, something the pub industry and its supporters have campaigned hard over in recent years.
"The cut will take effect this Sunday night and I expect it to be passed on in full to customers," he said, adding that all other alcohol duties would go up as planned.
"This is a momentous day for Britain's beer drinkers, who will tonight be raising a glass to the Chancellor for axing this damaging tax escalator and helping keep pub-going affordable for hard-pressed consumers," said Mike Benner, chief executive of the Campaign for Real Ale.
Osborne also scrapped a planned 1.89p rise on fuel duty, which was due in September but has been shelved after lobbying from road users.
As well as cutting duties, Osborne also brought forward plans to reduce corporation tax and the personal allowance threshold at which workers start paying income tax.
In 2015, corporation tax will drop to 20 percent, which Osborne said is the "lowest business tax of any major economy in the world". It would be part funded by an increase in the bank levy to 0.142 percent.
As of April 2014 the personal allowance will rise to £10,000, a year sooner than expected.
Osborne also scrapped capital gains tax on shares traded in the Alternative Investment Market to help stimulate equity investment in the smaller businesses which seek to raise capital there.
"From April next year, this will directly benefit hundreds of medium-sized UK firms, lowering their cost of capital and supporting jobs and growth across the UK," said Osborne.
There was also an announcement to help stimulate energy investment in controversial fracking, with the introduction of the shale gas field allowance, a tax break.
"Shale gas is part of the future and we will make it happen," said Osborne.
In another move for business, he reduced the level of employmer national contributions by £2,000 per worker, making the cost of hiring cheaper for firms.
Help to Buy for home-seekers
One of the major announcements in the chancellor's speech was a Help to Buy scheme for people seeking new homes.
Under Help to Buy, £3.5bn of capital spending will be made available for equity loans to mortgage-seekers.
On previous similar schemes, only first-time buyers with a household income under £60,000 a year could access the 20 percent equity loan, but now Osborne is making it available to all those looking to step up the property ladder and buy a new home under the value of £600,000.
There will also be a government mortgage guarantee under Help to Buy. This will see the Treasury underwrite mortgage lending at some of the country's main home-loan providers.
This should help bring down the cost of a mortgage, he said.
"The main question mark hanging over today's announcement is what effect it will actually have on house building," said Nick Pearce, director of the Institute for Public Policy (IPPR).
"Data published last month showed that NewBuy, the existing more limited version of Help to Buy, led to just 1,522 housing completions in the first nine months it was in operation.
"Overall, housing starts in 2012 were below 100,00, down 11 per cent on the years before and 45 percent below their 2007 peak. This compares to most estimates which suggest we need to build an extra 250,000 new homes a year to meet rising demand.
"It is not clear that Help to Buy will generate additional new housing starts, beyond what would have been undertaken anyway [which will certainly not be the case for mortgage subsidies that are not linked to new build]."
Reactions
Osborne's budget has met with condemnation from all sides of the political spectrum.
"The chancellor is either oblivious to the tough time that millions of public sector workers and their families are having or he is deliberately setting out to punish them," said Trades Union Congress general secretary Frances O'Grady.
"Public sector workers have seen their pay frozen as the cost of living soars and thousands now find themselves earning less than the living wage.
"Family budgets are at breaking point and millions of nurses, teachers, fire-fighters, council workers and civil servants will have been hoping the Chancellor might ease their pain today, not add significantly to it."
Those towards the right-wing were also left wanting.
"This is a fiddly, tinkering, complicated budget which cannot be expected to do much to promote the economic growth the UK so badly needs," said Mark Littlewood, Director General at the Institute of Economic Affairs.
"Spending remains too high and the government may well continue to run a deficit for the rest of the decade, thereby still adding to the national debt.
"The ring-fencing of areas of very high government spending has made it much harder for the Chancellor to come remotely close to balancing the books. Even his new, more modest plan to eventually stop over-spending is reliant on growth forecasts which, to date, have been wildly over-optimistic."
IPPR's chief economist Tony Dolphin said the infrastructure investment was "too little, too late".
"Government should be prepared to borrow more when households and businesses are not prepared to, as now; when there are spare resources in the economy so private spending will not be crowded out, as now; and when interest rates on public debt are low, as now," he said.
"Borrowing and debt should only be cut when the economy is strong and the cost of borrowing is high."
---
Follow @shanecroucher