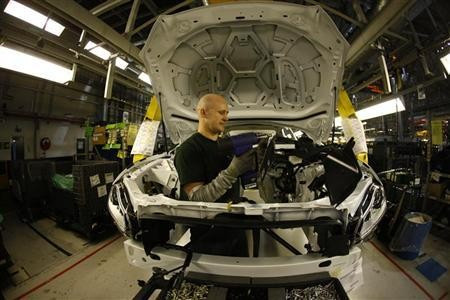 Britain's car market grew at its fastest rate in 11 years throughout 2012, according to an industry lobbyist, as new registrations volume saw its biggest annual increase in four years even as the economy wallowed in recession.
UK manufacturing has been in general decline, but the car industry's performance has bucked the trend in recent months.
"Looking ahead to 2013, we anticipate the market will hold firm, with manufacturers and dealers working hard to deliver quality and value to motorists," said Paul Everitt, chief executive of Society of Motor Manufacturers and Traders (SMMT).
The volume of UK car registrations in 2012 lifted by 5.3 percent to 2,044,609 units, according to the SMMT.
Despite the improving performance, the new car market was still 14.9 percent below its pre-recession level of 2.4 million units in 2007.
Fiestas, Corsas and Focuses were the models topping the list of 2012's best sellers.
Sales volumes of UK manufactured cars rose by 11.1 percent along the year, taking their market share up to 13.5 percent.
Private industry data for the manufacturing sector showed output reaching a 20-month high in December, far exceeding expectations.
---
Follow @shanecroucher