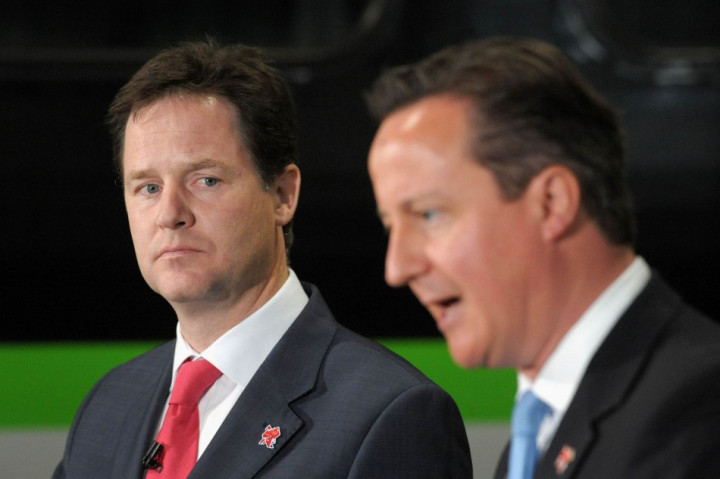 Only one in six voters believes that the coalition between the Conservatives and the Lib Dems will survive another three years, until the 2015 elections, according to a Guardian/ICM poll.
The number of people who expects a fall of the coalition government within two years has nearly doubled in just two weeks, observed the online survey.
Nearly 43 percent of the electorate polled, almost double of the 23 percent polled in late July, believe that the partnership will collapse within two years with another 11 percent seeing the possibility much sooner.
Only 16 percent of the surveyed expect the coalition to continue till the May 2015 election, down from the 33 percent who polled two weeks before by ICM.
Though the exact cause of the shift in voters' judgment in just two weeks is yet to be determined, the latest to add to the rift in the government is a row over bringing reforms to the House of Lords and Britain's relationship with the rest of Europe.
The Lib Dems accuse the Conservatives of breaking the coalition contract by not supporting the plans to introduce an elected House of Lords. Clegg retaliated by withdrawing support for boundary changes of constituencies which would have benefited the Tories.
Just 19 percent of the electorate, down from 23 percent, polled two weeks ago expects the coalition to survive till a few months away from the election.
The findings followed a recent Cameron-Clegg Downing Street dinner meeting reportedly aimed at burying their parties' differences on policy issues.
However, Clegg has reportedly sought an independent economic programme, separate from that of Chancellor George Osborne's, which is seen as a result of dissatisfaction over the Tories' handling of the economic situation in the country, which is in double-dip recession.
Osborne's budget deficit reduction programme is yet to bring the desired effect with the Bank of England predicting zero GDP growth for 2012.
ICM Research polled 2,021 people aged 18-plus online on 8 to 9 August 2012.