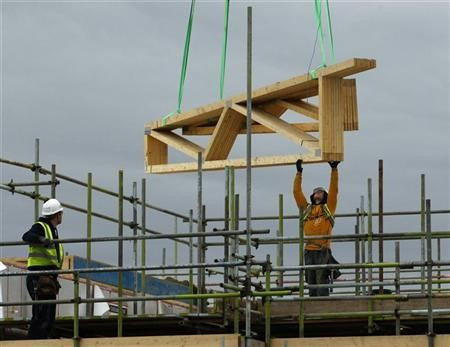 Britain's construction industry decline worsened in November as its contraction sharpened, all-but-confirming many economists' view that the economy shrank again in the year's final quarter.
Output from the construction sector shrank by 9.8 percent in November when compared with the same month a year before, reported the Office for National Statistics.
In the three months to November, when compared with the same period in 2011, the volume of construction output plunged by 9.1 percent.
New work tumbled by 11.2 percent and repair and maintenance by 5 percent.
"The largest contributor to the decline in output was the private commercial sector which fell by 16.2 percent. This sector is the largest, contributing approximately 22 percent to total output," said the ONS.
A sudden collapse in construction sector output during the final quarter of 2011 played a leading role in pulling the economy down into its longest double-dip recession since the Second World War.
Government austerity has hit construction sector firms hard as the number of public sector contracts dries up.
However, some hope lies in the government's UK Guarantees Scheme, worth £40bn, that underwrites the finances of shovel-ready major infrastructure projects struggling to find credit in the private market.
Over 70 projects have applied for help from the scheme.
Prime Minister David Cameron has also said the government intends to cut the planning red tape tying up construction firms in the hope it stimulates building activity.
Private industry data, compiled from surveys of purchasing managers, showed that in December construction sector output suffered its sharpest drop since June and is in contraction.
---
Follow @shanecroucher