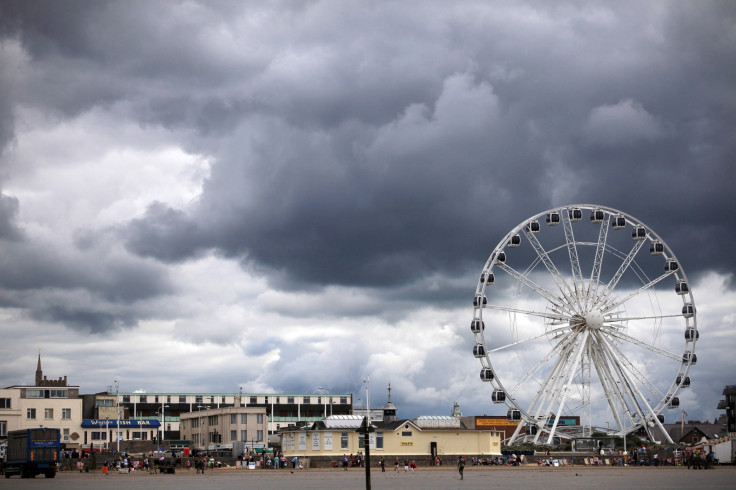 Storms and the equivalent of a month of heavy rain are forecast across parts of southern England and Wales for the next two days.
The Met Office has issued a number of warnings for the next few days, due to the likelihood of heavy rain, as warm air pushes up from France and into the south of Britain, triggering thundery downpours.
A yellow warning urging extra vigilance is in place on Thursday for the south coast up to the Midlands and North Wales, and as far north as Yorkshire, with a risk of localised flooding and as much as 50mm, predicted to fall in a short space of time as the front of rain pushes north.
On average, the UK experiences 50mm of rainfall in August.
The heavy rain has the potential for 'torrential downpours' in places with lightning an 'additional hazard', said the Met Office. It warned of the potential for travel disruption due to localised flooding.
On Friday, more thundery rain will push in across the south of the country, and a swathe of rain will also come in eastwards from the Atlantic, with heavy rain and thunder forecast across all of England, Wales and southern Scotland. Yellow warnings are in place for those regions.
Senior forecaster Julian Mayes added: "A thundery area of low pressure is developing over northern Spain and this will spread warm, humid air northwards over the next two days.
"Rain is expected to reach south west England around the middle of Wednesday night. This will spread north and north east to reach most of England and Wales by midday Thursday.
"The rain may be most persistent and slow-moving in the south western half of England together with east Wales, but the risk of thunderstorms may be greatest in the eastern half of England with torrential downpours possible at times."
Due to the unpredictability of rain, the Met Office has not pinpointed specific towns where the rain will be heaviest.
The AA has warned motorists to be cautious.
Paul Watters, head of roads policy, said: "Flash-flooding in the summer can be hit-and-miss but potentially dangerous for anyone caught up in it. The AA advises drivers to keep an ear out for local weather warnings and traffic news, and be prepared to encounter flooding.