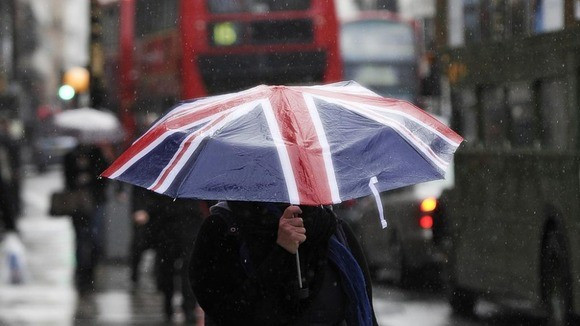 Britain's dormant economy has slipped from the grasp of a triple-dip recession with just 0.1 percent growth in the first quarter of the year, according to a forecast by the National Institute of Economic and Social Research think tank.
An improving service sector and better-than-expected performance by the production industries look likely to have pushed the UK just out of negative GDP territory, though the future remains clouded by economic uncertainty.
"Production sector output picked up sharply in February 2013, but this was largely a reversal of the sharp drop in output in January," said the NIESR's GDP forecast for the three months ending 31 March.
"Our estimates suggest that both production sector output and the broader economy were broadly flat in the first quarter of this year."
Fears over a triple-dip recession were ignited after the economy contracted by 0.3 percent in the final quarter of 2012, amid zero growth from the service sector, which accounts for three quarters of GDP, and falling oil production from the North Sea.
Private industry data compiled from purchasing managers surveys, conducted by research firm Markit, shows output from the powerhouse service sector growing at a faster pace than expected in March.
The performance of the service sector during the first quarter, as it bounces back from a flat closing three months of 2012, will offset a decline showed in similar data collected from the manufacturing and construction sectors.
Office for National Statistics (ONS) figures for the production and manufacturing industries revealed month-on-month growth in February.
Production lifted by 1 percent, driven by rising output from mining and quarrying, while manufacturing grew 0.8 percent, with a boost from machinery and equipment manufacture.
"These manufacturing and industrial production figures don't recoup the contraction suffered in January - but will definitely boost confidence of a positive Q1 UK GDP number at the end of the month," said Richard Driver, Caxton FX analyst.
"Growth in the services sector is looking set to drag the UK into a positive territory regardless, but this little production rebound is very welcome nonetheless."
Retail sales mostly defied the snow and grew on a like-for-like basis by 1.9 percent in March on the same month a year before, according to the British Retail Consortium (BRC), though fashion store sales taking a knock as cold weather deterred buyers of new lines of summer stock.
Helen Dickinson, BRC general director, described it as a "positive result, which rounds off a first quarter of cautious optimism for many retailers."
Despite the general trend of positive data, UK trade figures from the ONS exposed a worsening deficit between imports and exports in February.
The trade deficit widened to £3.6bn, worse than expected and up from January's £2.5bn.
"With domestic demand growth constrained over the coming years by fiscal austerity and squeezed household incomes, the UK really needs to see significant export growth and an improvement in its trade balance position as part of a sustained and robust economic recovery," said Scott Corfe, senior economist at the Centre for Economics and Business Research.
"Yet movements towards a trade surplus remain elusive. If this continues, the medium-term UK economic outlook could prove even worse than our already relatively bearish forecasts suggest."
Chancellor George Osborne was forced to tell the country in his 2013 Budget that the Office for Budget Responsibility (OBR), the independent fiscal watchdog, had once again slashed their growth forecasts for the UK economy.
The OBR cut its 2013 estimate to 0.6 percent, just half what it had been predicting in December.
NIESR projects growth of 0.7 percent in 2013.
Britain also recently lost its top AAA status at Moody's Investor Services, one of the world's three leading credit rating agencies.
Moody's said an ever-bloating public debt pile, persistent domestic output weakness, and an uncertain economic future because of wider global turmoil meant it had to drop the UK's rating down a notch to AA+.
One of the other three agencies, Standard & Poor's, reaffirmed the UK's AAA status, though kept it on negative outlook.
"The affirmation reflects our view that the UK government remains committed to implementing its fiscal program, and that it has the ability and willingness to respond rapidly to economic challenges," said S&P.
"In addition, the ratings are supported by the UK's wealthy and diverse economy, fiscal and monetary policy flexibility, and adaptable product and labour markets."
---
Follow @shanecroucher