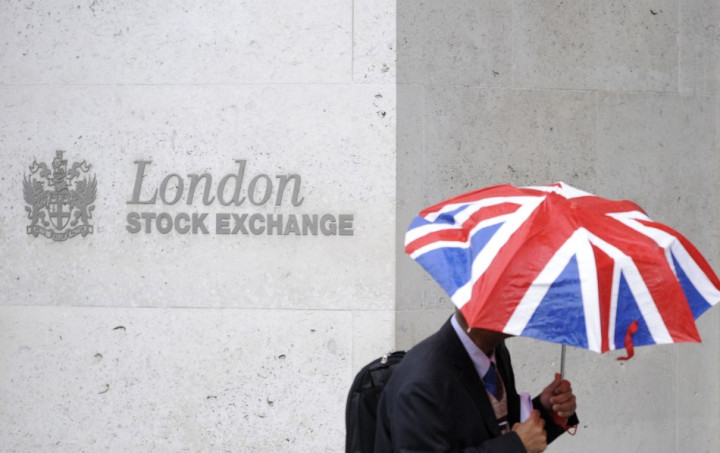 Britain's economy contracted by 0.3 percent in the final three months of 2012, according to early estimates from the Office for National Statistics, with analysts, commentators and politicians rushing out their first thoughts on yet another quarter with a negative GDP reading.
The ONS preliminary estimate for the UK's Q4 GDP is based on 40 percent of the available data. It is designed to give an indication of output from the economy during the period, rather than a complete picture.
Some think the UK may be heading for an unprecedented triple-dip recession, which would require two consecutive quarters of negative GDP number.
Here's a rundown on what some had to say about the initial ONS GDP reading:
The UK Treasury
It confirms what we already knew -- that Britain, like many European countries, still faces a very difficult economic situation. While the economy is healing, it is a difficult road.
Ed Balls, Labour's shadow chancellor
Today's news confirms what business leaders, retailers and families have known for many months - that depressed confidence and a chronic shortage of demand mean our economy continues to flatline. This government's failing plan has now seen our economy stagnate for over two years and borrowing is now rising as a result.
John Cridland, director general of the Confederation of British Industry
After a difficult year, the UK economy has ended on a disappointing note. We think growth will continue to be fairly flat through the winter but momentum will gradually build later in the year, as the global economy picks up a little and confidence lifts.
Tony Dolphin, Chief Economist at the Institute for Public Policy Research
We will not know for sure whether the economy is back in recession for another three months. And even then, history suggests there is always a chance that the GDP figures will be revised and that any recession will be subsequently eradicated from the record.
What we do know, however, is that the economy is facing a triple crisis: stagnation, debt and imbalance.
As a first step to get back on track, we need a temporary cut in employees' national insurance contributions, using the historically low cost of borrowing to increase spending on infrastructure, measures to keep the long-term unemployed in touch with the labour market and an active industrial policy focused specifically on reversing the country's poor export performance.
Ross Walker, RBS analyst
As counter-intuitive as this might first sound, I view these Q4 preliminary GDP numbers as fractionally better (yes, better) than what had been expected. Industrial production fell by 1.8%, marginally less than the 2.1% drop I had forecast, while services output was flat vs my forecast for a drop of 0.1%. In other words, 90% of the UK economy performed marginally better in Q4 than I had anticipated. The weaker headline GDP outturn reflects another bizarre twist in the construction output data (a sector of the economy which accounts for just 6.8% of GDP.
To be clear, the UK economy is in a fragile state and underlying output trends are broadly flat - this is not a 'good' number in any absolute sense. But markets and policymakers need to look beyond the headline GDP estimate.
We still expect a technical triple-dip recession to be narrowly avoided-our provisional Q1 forecast is 0.1% qoq. Our FY2013 forecast is 0.9%.
Andrew Edwards, CEO of ETX Capital
Today's report raises big questions over the prospects of the UK in 2013, both on an economic and political level. Economically, the zero or no growth environment means continued liquidity activism by the Bank of England for the foreseeable future but also dents consumer confidence to the point where businesses in the UK will see a considerable hit to their profits.
The barrage of bad news out of the UK only reaffirms to consumers of how unattractive the environment is in UK, prompting consumers to hold back from departing from hard earned cash and investors to look elsewhere in order to book favourable returns on their investment. This is worrying for the business sector as the decline in consumer activity will ultimately eat away at the bottom line for some time to come.
Nigel Green, chief executive of deVere Group
[George] Osborne has, on many occasions, bragged that he has increased taxes on the wealthy in every budget since 2010, but he should resist any plans to implement a new wealth tax in this year's budget as it could deter much-needed new foreign wealth from entering the UK and drive out wealthy foreigners who already live here.
The UK does not want to go down the road seemingly favoured by the Lib Dems and [Francoise] Hollande, despite, and because of, today's bleak GDP figures that put Britain on track for a triple-dip recession.
John Walker, National Chairman, Federation of Small Businesses
It is disappointing this latest set of figures shows a dip as the economy finds it hard to maintain momentum with the Olympic effect fading. The pattern of recovery has been uneven and marked by ups and downs. External factors have added to the uncertainty, meaning confidence remains fragile and rebalancing the economy is taking longer than expected.
FSB research showed that small firms are slightly more confident going into 2013 than they were going into 2012. Growth has been forecast in the year, but still below long-term trends. What we need to see is the Government continue with reforms to encourage investment in the economy and to ensure the UK has the flexibility required to take full advantage of the recovery when it comes.
Michael Saunders, Citi analyst
Doubtless, some argue today that the UK should "avoid talking itself into a renewed downturn". But, the fact is that the UK economy is underperforming badly, and probably will continue to do so. The UK faces powerful ongoing headwinds from private deleveraging and poor export performance, while fiscal headwinds are likely to intensify this year. Moreover, the government's decision to announce a referendum in several years on whether the UK should stay in the world's biggest cross-country single market is likely to add uncertainty over the UK's future trade access and hence, in our view, probably will further cap business investment in the UK. The MPC remains likely to loosen monetary policy further and, as indicated by the Governor's speech and the MPC minutes, the BoE will welcome a lower pound.
---
Follow @shanecroucher