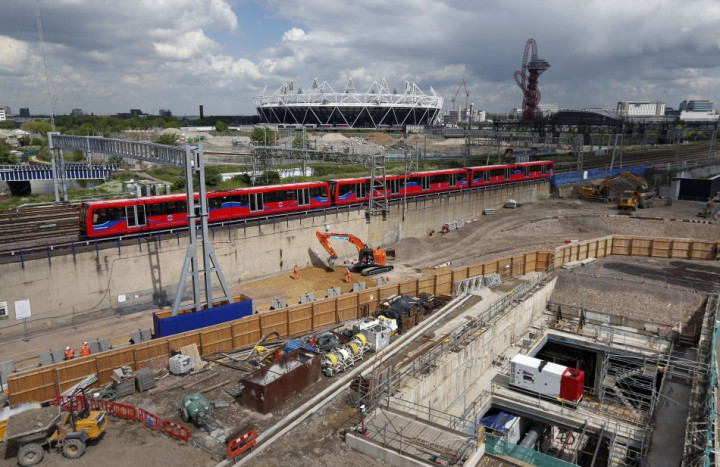 Construction industry leaders are increasingly frustrated by the sluggish progress of the Treasury's flagship infrastructure stimulus initiative, the £40bn UK Guarantees Scheme, and say urgent action is needed else risk wasting its potential to boost the limp economy.
Business groups are demanding that the scheme, which targets "nationally significant" infrastructure projects, be opened up to smaller-scale work.
It also asks for the scheme to be extended past its 2015 deadline and for the government to provide greater transparency over who has applied for support.
So far only one project worth £75m (€88m, $118m) - the conversion of the Drax power station from coal to biomass - has been given a guarantee under the scheme. The Northern Line extension to Battersea on the London Underground is said to be on the cusp of a guarantee.
Office for National Statistics data shows that in the first quarter of 2013, new infrastructure work tumbled by 4.2% on the previous three month period. Across the year it declined by 1.5%.
"We're pretty exasperated with progress to date. It's just not delivering - it's far too slow, not being used aggressively enough and not attractive enough to investors," a spokesman for the Confederation of British Industry (CBI), the country's biggest business lobbyist, told IBTimes UK.
"Given the build-up to the next election will start in earnest as early as next autumn, the window to get big schemes through the door is potentially only 15 months - so we need urgent action now.
"Business wants to bang all three political leaders' heads together. They need to build consensus about the infrastructure priorities over the coming decade, to give business and industry real confidence that we don't go back to square one whoever is in power after the next election."
The Construction Industry Council (CIC), which represents 500,000 people working in the sector, is also concerned about the state of play with UKGS.
"Any stimulus that's designed to help construction from our perspective is obviously a good thing to do, but I think it is fair to say that their actual delivery on the ground of the scheme has been disappointing," said Gordon Masterton OBE, deputy chairman of the CIC, to IBTimes UK.
"There's no doubt that we're currently very, very far short of the aspirations of £40bn hoped for in the stimulus package.
"This is not wholly surprising when you look at the conditions of the scheme. They are relatively narrow in terms of capturing projects with the particular menu of requirements. That narrows the opportunities quite significantly."
A sharp plunge in construction sector output dragged the economy down into the longest double dip recession since the Second World War. Infrastructure work is eyed as a decent leg up towards economic recovery, though as the government ploughs on through its austerity programme it has been hesitant to pull any fiscal levers.
However, Chancellor George Osborne has pledged £3bn a year in capital investment in infrastructure work from 2014/15 for six years. Critics say it is too little, too late.
UKGS and smaller infrastructure projects
Under UKGS, infrastructure projects are eligible for support if they are of national significance, financially credible, and ready to start within 12 months of a guarantee being issued.
Around 14 projects, worth £10bn, have pre-qualified for help from UKGS and are currently undergoing assessment and due diligence by the Treasury.
A guarantee had been issued for the rolling stock contract on London's Crossrail project, but the government subsequently decided to use public rather than private cash instead.
Though UKGS was announced in the summer of 2012, the legislation did not pass through parliament and receive royal assent until the end of October.
It is also only supposed to last until 2015, but the CBI is calling for this to be extended, so it is more attractive to would-be investors in infrastructure projects that have a guarantee under the scheme.
They say investors are being deterred by the "cliff edge" of a 2015 election, when a new government may choose to close down the scheme entirely.
CIC's Masterton said he wants smaller projects to be accepted onto the scheme, not just the big ticket developments.
"Inevitably these stimulus schemes are focused on the mega projects. They do tend to be designed to get the really big projects off the ground because they clearly have an economic impact that's substantial, but also it's a bold statement made by government that without this then it wouldn't have happened," he said.
"On the other hand, the vast bulk of construction is consisting of fairly medium-sized or even routine maintenance and refurbishment is half of the sector in construction.
"Maybe we should think about how better to stimulate the more mundane, less sexy side of construction and housing, because that's where the volume is. That's where the greater impact could be made."
He added: "It's a missed opportunity because there's a lot of work that can be done, a lot of work that ought to be done, and it's not all mega projects."
Government's 'credibility gap'
Richard Threlfall, UK head of infrastructure at consultancy giant KPMG, declared that the UKGS could be a "game changer" when it was launched in 2012.
"It's clearly at risk of being harshly judged for a lack of large, concrete application within the period since it was first announced at the back end of July," Threlfall told IBTimes UK.
"Personally, I stand by my initial reaction to it which was I thought it had the potential to be transformational in terms of getting finance into infrastructure in this country.
"I thought in principle it was exactly the right thing to do, to use the government s credit to back up private capital in a period when the government's not keen obviously on putting its own - or taxpayers' - money directly into schemes. I think all that still holds."
Threlfall also warned that a "credibility gap" is opening up for the government over UKGS because of the £40bn figure touted originally and the lack of schemes given guarantees. Treasury officials have also been cagey about who has been in contact and is under consideration for a guarantee, refusing to name any of the projects in discussion.
"I think there is a level of frustration at the lack of visibility in the infrastructure community of the schemes which are being considered by the Treasury," he said.
"I guess I wonder whether a bit more transparency would be helpful for everybody in terms of recognising what can be done.
"If the government was able to say here are some examples of the sort of thing we've been discussing - there's no guarantee that we'll be able to support them at the end of the day - but these are the ones that are under discussion then I think lots of people would look at that and go actually that's very similar to what we're trying to do, maybe we should approach them too."
Unless the pace of UKGS accelerates, Threlfall said there's a risk that time will run out and "the curtains will eventually come down because of the election".
UKGS is 'flexible'
The Treasury defended its progress on UKGS.
"In October, the £40bn UK Guarantee scheme was given statutory backing, passing through Parliament in a record 55 days," said a Treasury spokeswoman.
"Six months later, the Treasury signed its first guarantee with Drax Group plc. The guarantee was seen as a 'crucial component' of the funding model by the investor and project sponsor, and follows our announcement in December that the Northern Line Extension will benefit from a UK Guarantee in due course, enabling the wider £9bn development of the area.
"UK Guarantees have been warmly welcomed by industry, with over 110 enquiries received by the Infrastructure UK (IUK) team."
The Treasury spokeswoman also implied that the definition of "nationally significant" has been broadened to include more projects than the major ones identified by the government in its National Infrastructure Plan.
"The scheme is flexible and interested parties should discuss with IUK the suitability of their project," she said.