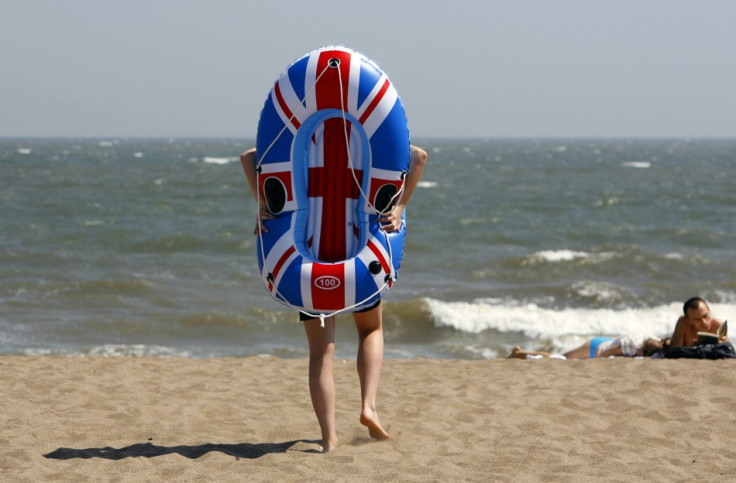 Temperatures will rise to 25C on Thursday as the predicted heatwave hits Britain.
Despite the unsettled bank holiday, a spell of fine weather is set to reach our shores this week that will last well into July.
Forecasters predict that rain will fall below average levels - especially in the south - throughout the whole of June.
The news will be a welcome boon for attendees of June's show-piece events, including Glastonbury, the Isle of Wight festival and Wimbledon.
This week temperatures will hit 25C across the South-East, and while it falls short of the blistering 28C of Easter, the mercury will still hit a respectable 22C in Wales, northern England and Scotland.
There will be gentler winds and clearer skies across much of the country, although the far northern corners could see light drizzle and clouds.
A band of high pressure heading up from the Azores off the coast of southern Europe and north Africa is responsible for the balmy conditions.
Hottest spring on record
This spring has been one of the driest starts to summer on record with the Met Office recording the lowest rainfall for April and March for 73 years.
And between March and the end of May the average temperature was 10.32C, which beat the previous record set in 1893.
The Met Office and long-term forecaster Positive Weather Solutions are warning that June will only add to farmers' woes with very little rain forecast for next month.
PWS spokesman Jonathan Powell predicted a deluge for today but added that this will be the last heavy rain until mid-June.
Mr Powell said, "This rainfall will make a very small dent in a very large barrel. It's going to be a really dry June and this will be the last time it rains significantly for around two weeks."
Since the beginning of March there has been an average 65mm of rain, which has led to dangerously low water levels in some of Britain's reservoirs as well as bushfires in Lancashire.
Some areas like East Anglia have only seen a miserable 17mm of rain.
The lack of water has been disastrous for farmers and consumers because crop yields are down, which could push up the cost of food.
The Environment Agency has already put together a drought plan amid fears that Britain may have a summer like 1976 - the hottest summer on record.
At that time water levels were at dangerously low levels with strict rationing put in place by the Government's newly appointed Minister for Drought.
Environment Secretary Caroline Spelman called an emergency drought meeting on 17 May with members of Water UK, the National Farmers' Union, the Environment Agency and Natural England to discuss the expected heatwave.
East Sussex farmer Michael Fordham shared his concerns about the effect of the heat and drought on crops in the UK on his National Farmers' Union blog.
"Together with most farmers in the South East, we are trying to do a daily rain dance," he said.