UK Home Office concerned with net migration increase
The UK office are determined to reduce net migration into the UK, and has imposed restrictions on the dependents students are allowed to bring.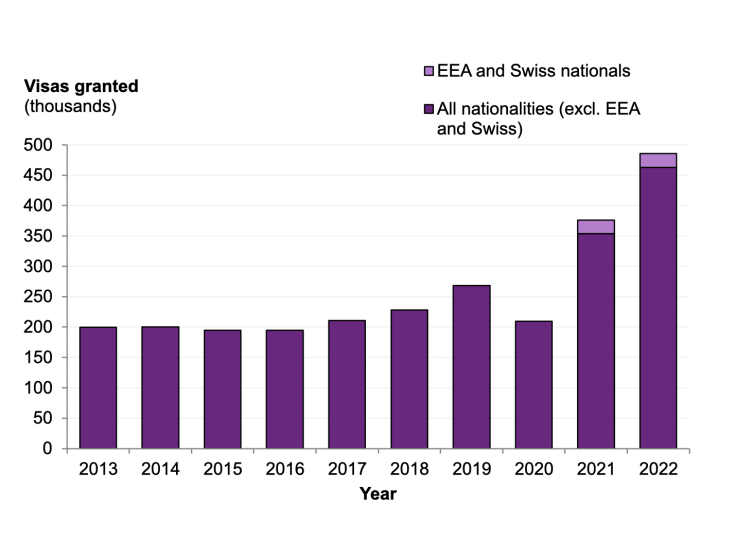 Due to recent global events, from the crisis in Ukraine that is causing an influx in asylum seeking to the resumption of post-pandemic travel, the number of people migrating to the UK has been on the rise. This observable trend has also continued in students, with many people choosing to head to the UK for degrees in higher education.
According to the UK government's website, the Home Office observed a large increase in the demand for study visas in 2022, 458,758 sponsored study visas were granted in 2022, which is an increase from 81 per cent more than the number of study visas granted in 2019.
Those who hold study visas are also able to bring 'dependants' along with them, such as partners and children. Last year, more than a fifth of sponsored study-related visas were granted to the dependants of the students. The numbers have soared from the ones observed in 2019, and have steadily increased, with the total number increasing from 16,047 in 2019 to 135,788 in 2022.
The increase in visa application numbers is an effect of post-pandemic travel, along with a growth in enrolments from foreign students in the higher education sector.
However, certain individuals have seen the sharp increase in dependants as a cause for concern, with Home Secretary Suella Braverman stating that "it is time for us to tighten up this route to ensure we can cut migration numbers and meet the government's pledge to the British people to cut net migration".
In a written statement to the House of Commons, Home Secretary Braverman stated that only international students pursuing postgraduate degrees and conducting research projects would be able to bring along their family members and dependents.
In an attempt to further reduce net migration into the UK, additional restrictions for student visas have also been set in place, with overseas students forbidden from switching from student visas to work visas until their studies have been completed.
However, other members of Parliament have not exactly shared the same sentiment as Secretary Braverman, with the Secretary of Education Gillian Keegan exhibiting a desire to rebuff Braverman's attempts to dramatically reduce the number of dependents and students migrating to the UK.
Keegan said: "Attracting the top students from around the world isn't just good for our universities – it's essential for our economy and building vital global relationships."
In an interview with Financial Times, Keegan expressed the idea that she would like to build upon the success of the UK's market in education, and wanted to increase education export revenues from £26 billion to £35 billion by 2023.
While some in Parliament are attempting to decline the growth of international students, Keegan reminds the UK that its education sector is "something that we should be very proud of".
© Copyright IBTimes 2023. All rights reserved.