UK house builders: Are Berkeley Group, Bellway and Persimmon a value buy or value trap?
Can anyone solve the UK's growing housing crisis? The new Mayor of London, Sadiq Khan, has a huge challenge on his hands now that he is settled at City Hall. He promised during his election to make 50% of all new homes in London "genuinely affordable".
This is how bad matters have become in London: according to estate agents Savills, first-time homebuyers in the capital now require a deposit equalling 131% of their annual salary.
Just look at the way that adults aged up to 34 have seen home ownership fall as a result of increasingly unaffordable housing – just 9% of 16-24 year olds owned their own homes in 2013/14, compared with 36% in 1991.
Only 36% of 25-34 year olds owned their own homes in 2013/14, compared with a massive 66% in 1991 (Chart 1).
To this end, Mayor Khan will use the £400m ($580m, €519m) that remains of the London Mayor's affordable homes budget to support housing associations to build more London homes.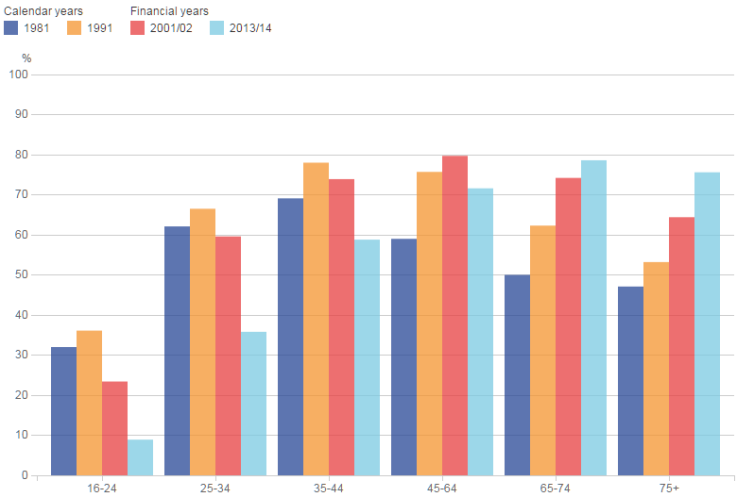 1. The 16-34 age group have seen a collapse in home ownership
ONS
This is not, however, exclusively a London problem. Indeed, back in 2004 the Barker Review concluded that the UK would need to build 250,000 new homes per year just to keep pace with the growing population.
But of course, this has not been achieved.
Matters are now so extreme that housing charity Shelter reported last year that a quarter of all adults under the age of 35 in the UK were still living in their childhood bedroom with their parents.
How big is the UK's housing shortage today?
Estimates vary, and the 2014 Lyons report estimated a shortfall of around 1 million homes.
Just look at the number of homes built per year since 2004, the year of the Barker Review. The National Housing Federation (NHF) assesses the need for new homes at 245,000 across the UK each year. But, in the last 11 years there has not even been one year where that many homes have been built.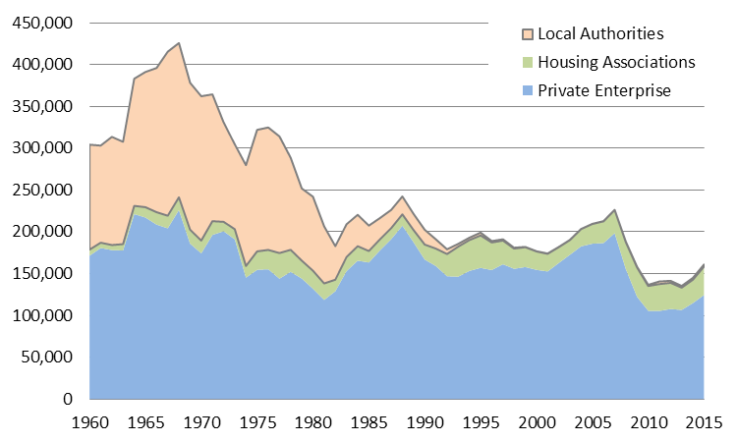 2. Steady decline in house building volumes since the 1960s
Department of Communities and Local Government
Chart 2 illustrates this graphically – the last time that anything like that many homes were built in a single year was actually in 1988, 28 years ago.
If we look at the yearly shortfall in newly-finished housing from 2004 to 2015, the total shortfall in housing today comes to a massive 880,000 houses and flats (Chart 3). Even this year, we are unlikely to see more than 170,000 new homes built in total, so still at least 75,000 short of the NHF's annual target.
Some believe that house builders are facing a big bust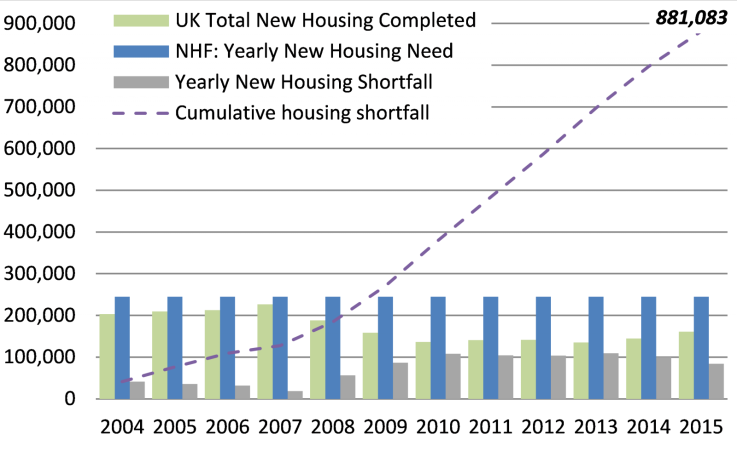 3. House building has increasingly failed to match demand in recent years
Department of Communities and Local Government
All of this might sound like music to the ears of the nation's house building companies like Berkeley Group, Bellway and Persimmon.
But there are naysayers who believe that these house builders face a big drop in their share prices, similar to the drops suffered during the last recession in 2009.
The Daily Telegraph is one such predictor of house builder doom, judging from an April article Shares in UK housebuilders are the biggest value trap the market has ever created.
It argues in essence that despite the seemingly attractive valuation levels that these house builders currently trade at, that they face a number of headwinds such as:
a sharp post-Budget slowdown in buy-to-let housing demand from budding landlords now put off by higher taxes,
the risk that the EU Referendum scares off foreign property investors, and
the late point in the current UK house building cycle, just as a housing bubble forms and cost pressures increase.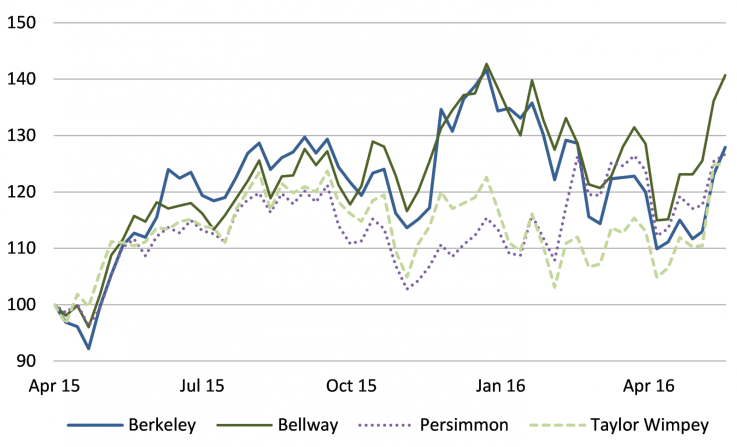 4. House builders see big share price recovery
Yahoo Finance
While all of these points are perfectly valid, I do not believe personally that these effects will be enough to push house building shares down further. After all, they have already suffered heavily from the end of last year up until April this year.
But the last month or so has seen a marked upturn in their fortunes, with many of their share prices back to or even exceeding end-2015 highs (Chart 4).
I believe that house builders will benefit from steady demand growth
I am not a house building doomsayer. Firstly, as we have already established, there is a clear long-term demand for housing in the UK that is very far from being satisfied.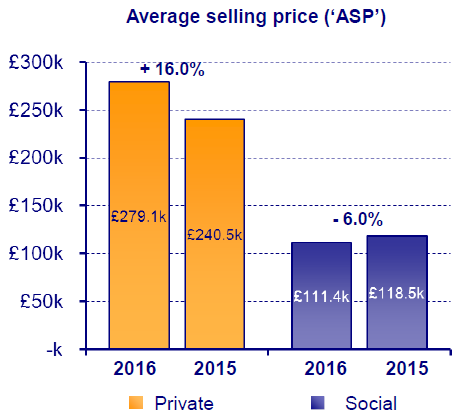 5. Bellway's private selling price 16% year on year
Bellway
Secondly, house builders continue to enjoy rising selling prices for their new homes – Bellway have seen a 16% rise in the average selling price of their private homes for the six months ending 31st January 2016, which was 87% of their overall homes sold (Chart 5).
Mortgage lending is also holding up well, demonstrating that even after the rush by budding buy-to-let landlords to get a mortgage in March to beat the Budget deadline for the new higher stamp duty on buy-to-let properties, home buyers were still very active in April.
Indeed, the Council of Mortgage Lenders report that April's gross mortgage lending was as high as £18.5 billion, lower than March's bumper figure but still 16% above April 2015's level.
And investors are paid to wait, with juicy income yields
For investors starved of income by ultra-low or zero savings interest rates in bank accounts, house builders represent an attractive source of income from dividends paid out twice per year.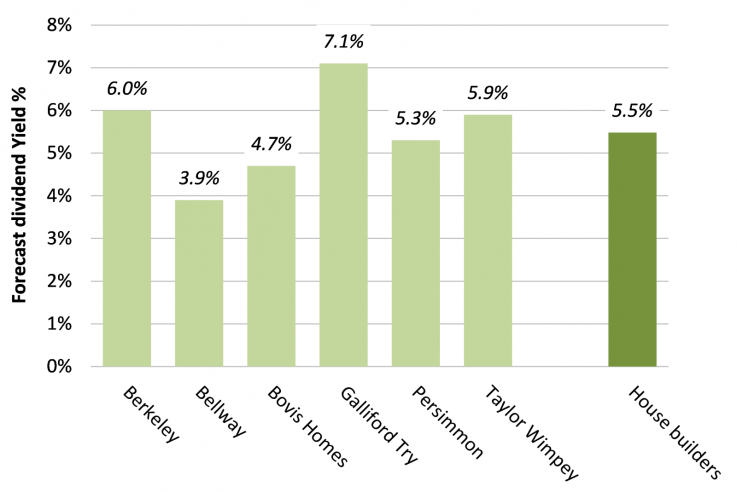 6. House builders offer a generous 5.5% average income yield
Stockopedia
Holding UK house builder shares could well net you a 5.5% average income yield in the form of dividend payments over the coming year (Chart 6). And remember, dividends generally grow over time in line with profits, so this income payout can even improve in the future.
Summary: I think there are a number of good fundamental reasons to expect house builders to rise over the remainder of this year, so don't believe the doomsayers and tuck some shares away in your ISA.