Mike Ashley's luck seems to have been out this past year. His football club Newcastle United has been relegated thanks to a last-gasp surge by bitter regional rivals Sunderland, while his retail chain Sports Direct has also suffered big share price losses.
On the one hand, Newcastle will at least receive parachute payments from the Premier League over the next three seasons, likely to be around £40m ($57m, €51m) in the 2016/17 season. This will soften the blow from the loss of bumper TV revenues going to Premier League clubs as of next season from the new Sky/BT deal.
Sports Direct, on the other hand, will get no such handout. The sportswear retailer, still 55% owned by Ashley, has seen its share price go on a one-way ticket down since August last year. Since then, Sport Direct shares have lost over 50% of their value (Chart 1), a performance far worse than for the FTSE 100 index.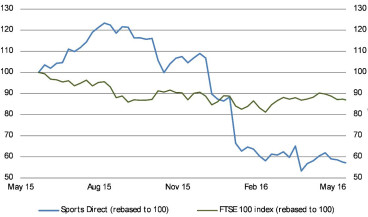 Today the shares languish at only 373p. Over the same period, its closest rival JD Sports (code: JD.) has gained over 18%.
Zero Hours Contracts, Mike Ashley's Behaviour and a Profit Warning
Sports Direct has been hit by a number of problems over the last year including:
A rising furore over the company's widespread use of zero hours contracts, allegedly resulting in some temporary employees receiving less than the minimum wage according to The Guardian newspaper.

Problems over the insolvency of subsidiary fashion retail chain USC, with the Sports Direct chief executive David Forsey, who was charged late last year with a criminal offence by the UK Insolvency Service. He is accused of not following the proper legal procedure for compulsory redundancy of USC employees as the company collapsed.

The relatively poor performance of the shop chain's sales, due no doubt in part to the negative publicity the company has suffered, resulted in Sports Direct issuing a profits warning on January 8 this year, highlighting weak trading conditions over the Christmas period.
Like Newcastle, Sports Direct has already been relegated
Following the sharp share price slump of the last six months, Sports Direct has already been relegated (as of March 21), from the benchmark FTSE 100 index. With the Mike Ashley-owned Newcastle suffering a similar fate of relegation from the English football's top division, is this the end for Sports Direct?
Naysayers can point to the fate suffered by former rival JJB Sports, founded by the Wigan Athletic football club chairman Dave Whelan. JJB Sports ultimately went bankrupt in 2012, with Sports Direct buying up many of its assets from the receiver.
But we should perhaps remember that the Sports Direct is today still 35% above its original flotation price of 275p back in late 2007. In contrast, the FTSE 100 stock market index has not advanced at all over the same period.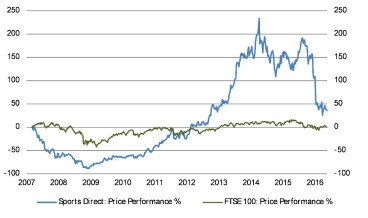 So long-term shareholders should perhaps not complain too much about Mike Ashley's business strategy, in spite of the company's recent troubles.
Can Sports Direct recover its mojo?
So we arrive at the $60,000 question today: Can Sports Direct recover from its recent mis-steps, or is it fatally wounded by the political onslaught over its employment practices?
The Sports Direct success story has been founded on its "pile 'em high, sell 'em cheap" philosophy, combined with an aggressive acquisition strategy that has seen them acquire sportswear brands and manufacturers such as Dunlop, Lonsdale and Slazenger relatively cheaply. According to stockopedia.com, Sports Direct grew its earnings by 177% in just four years between 2011 and last year.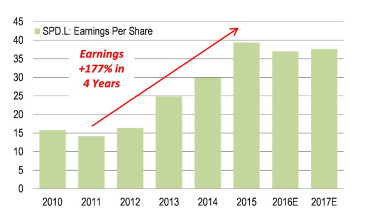 But today, the UK sportswear market is fairly mature. With Sports Direct already operating 440 UK retail outlets today, the UK market offers relatively little further growth potential. But that doesn't mean that Sports Direct has run out of growth potential.
The clear growth markets lie abroad, for instance in Europe. The sportsdirect.com website is already successful in attracting online sales from continental Europe, where it already ran 221 stores as of mid-2015.
Another potential growth opportunity lies in gyms: in their Sports Retail division, the company acquired 25 former LA Fitness sites, and plan further gym openings this year. This could prove another lucrative business opportunity with the potential for cross-selling Sports Direct clothing and footwear to boot.
Sports Direct is also now very cheap
One final argument in favour of Sports Direct shares today are their low valuation; just looking at the company's price/earnings (P/E) ratio for this coming year, the company now trades at only 9.3 times earnings (see Chart 4). This is well below the equivalent valuations for all other major UK clothing and footwear retailers and nearly half the P/E ratio of its closest comparator, JD Sports.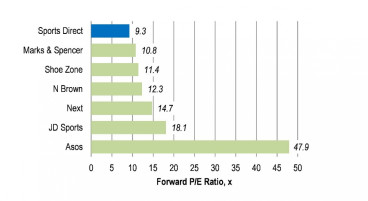 Let's be honest, an investment in Sports Direct today is clearly not without its risks. But looking to the company's strong record of generating growth and value for shareholders in the long-term, I think that Sports Direct shares are worth a close look at today's 373p level.