Top Gear: Should you invest in sports carmakers?
Top Gear will once again be gracing the BBC from May 29, albeit with a completely new line-up of presenters, fronted by Chris Evans (of Radio 1 and TFI Friday fame) and Matt LeBlanc (once upon a time Joey in Friends). So what can we expect, as Chris, Matt et al try to outdo the outlandish Clarkson, May and Hammond trio, now of Amazon Prime?
Let us not forget – Top Gear is a huge global product, sold by the BBC to broadcasters in 214 countries around the world. So the pressure to hold on to Top Gear's myriad fans is huge.
While some elements of the programme's format may change, one certainly will not – fast, expensive cars are sure to feature prominently, as the sports car's schoolboy allure of speed, brute force and glamour never seems to fade even in distinctly middle class males.
An Investor's Guide to the Top Gear Car Universe
Perhaps we should start with the most stunning car to be unveiled this year, one that is sure to feature on this forthcoming series of Top Gear: the Aston Martin Vanquish Zagato Concept. This sleek V12-engined, 100% carbon fibre machine, the product of a collaboration between Aston Martin and the Italian design house Zagato, is being unveiled this weekend on the shores of Lake Como in Italy.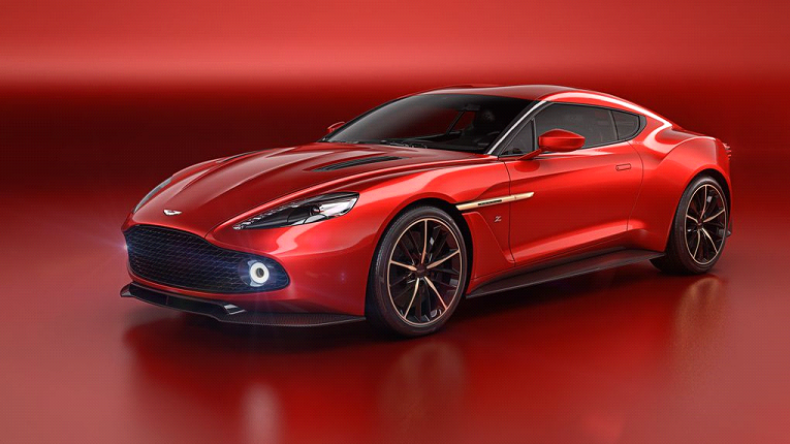 This car is literally priceless. As a concept car, it is not in production (yet), and thus has no official price tag as it is not on sale. However, as a guide, the last Aston Martin concept car that made it into limited production, the 2013 Aston Martin V12 Zagato, was made on a limited 150-car run and sold for a cool £396,000 each.
Unfortunately, those with a little less to invest cannot even buy a stake in the Aston Martin company, as it is privately held by a consortium of funds. The German car company Daimler is a 5% shareholder, as it plans a joint venture with Aston Martin to design new sports cars under the Mercedes AMG performance car marque. But, there are a number of other sports car makers you can invest in instead.
US-Listed Sports Car Companies: Ferrari, Tesla
No series of Top Gear would be complete without a liberal sprinkling of thoroughbreds from the Prancing Stallion's stable of car models. Funnily enough, while Ferrari is a quintessential Italian brand, its shares are listed not in Italy, but in the United States under the code RACE (quite appropriate, really).
After all, Chris Evans himself is the proud owner of a number of Ferraris, including a 1961 250 GT Spyder California SWB and a 575M Maranello. For those who cannot afford the actual Ferrari, you can buy a tiny slice of the company via the shares, for just $41 apiece.
For those who prefer to combine speed and glamour with an ecological sensibility, then there are electric-operated Teslas. The flagship Model S, which retails in the US for a cool $90,000, has phenomenal acceleration and a range of around 400 miles on a single electric charge.
The recently-unveiled Model 3 is said to be much more affordable, at a list price of just $35,000. However, this model is not yet in production, so even if you put down a deposit today, you are very unlikely to get your hands on the car until next year at the earliest.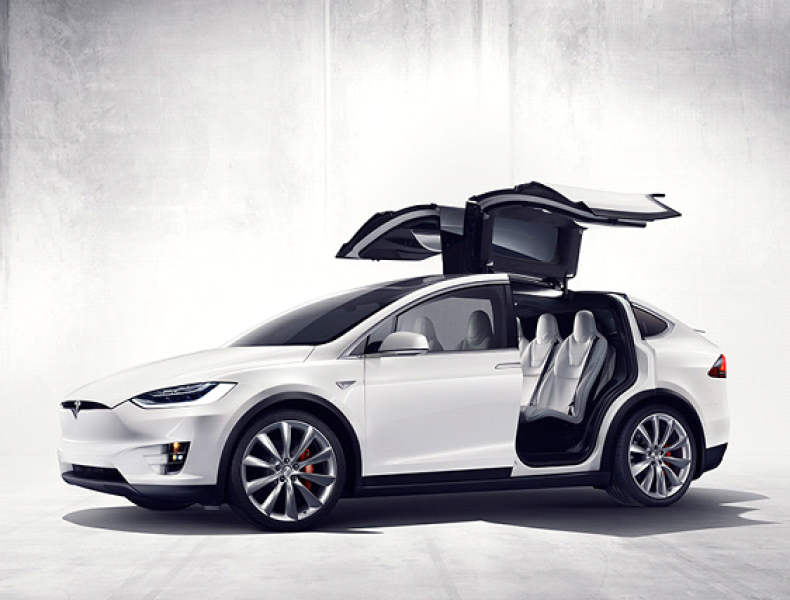 Tesla's shares are available in the US for $220 each at the moment, although Tesla CEO Elon Musk has just announced a forthcoming new share issue in order to pay for the ramp-up in production of the Model 3. This means that you might be able get Tesla shares somewhat cheaper through the share issue.
European-listed sports car companies: Daimler, BMW, Volkswagen
Surprisingly, many luxury and sports car brands are actually owned by volume car manufacturers in Europe (see table 1).

BMW also owns Mini and Rolls-Royce
The German BMW, based in Munich, makes some sweet sports cars, such as the BMW i8 which would not look out of place on the set of a science fiction film like Tron. But BMW also own the iconic British car brands Mini (still manufactured in Cowley, just outside Oxford) and Rolls-Royce.
Daimler is home to the Mercedes Brand
BMW's great German rival Daimler, based in Stuttgart, is home to the Mercedes luxury brand, and of course the Mercedes AMG performance brand plus the Mercedes Formula 1 team – they are thus the employers of both Lewis Hamilton and Nico Rosberg.
Expect the Mercedes AMG GT model to potentially make an appearance on Top Gear at some point, as it has been voted by Auto Express magazine as one of the top 10 sports cars around at the moment.
Volkswagen, the people's car is home to Porsche and Audi
While the name Volkswagen may conjure up images of mass-market cars like the Beetle or the Golf, this volume car manufacturer is also home to a number of upmarket brands such as Porsche, Audi and Bentley. The Porsche 911 has been around in many guises for decades now; but even today, it does not lose its classic allure, still one of the top 10 sports cars on sale today in its latest guise, the 911 Carrera S.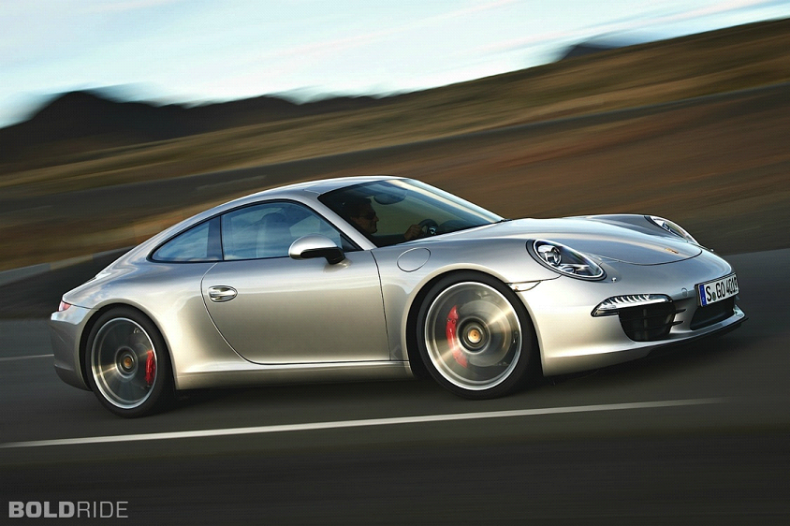 For those who cannot afford the 911's showroom price of £76,400 (before options), there are cheaper models like the Boxster and the Cayman, which start at under £40,000.
Maserati is actually owned by Fiat
Finally, there is Maserati, the Italian sports car brand owned by FiatChrysler. Now that Fiat has merged with the US car company Chrysler, it is also the maker of iconic US muscle cars such as the Dodge Viper, which have featured on Top Gear in the past. Fiat's shares go for a very low 6.30 euros each, meaning they are affordable to just about anyone.
Are any of these car company's shares worth owning today?
While the sports car models discussed above are all very desirable for those for whom money is no object, the question for investors is rather whether these car company shares are worth investing in today. Let's take the two US-listed car companies Ferrari and Tesla first of all.
Both Ferrari and Tesla look expensive in terms of valuation, judging by their P/E ratios of 20.5 and 67 times respectively (see table 2: the higher the P/E, the more expensive the company is). Equally well, the shares of both companies have been falling rather than rising of late (see chart 1).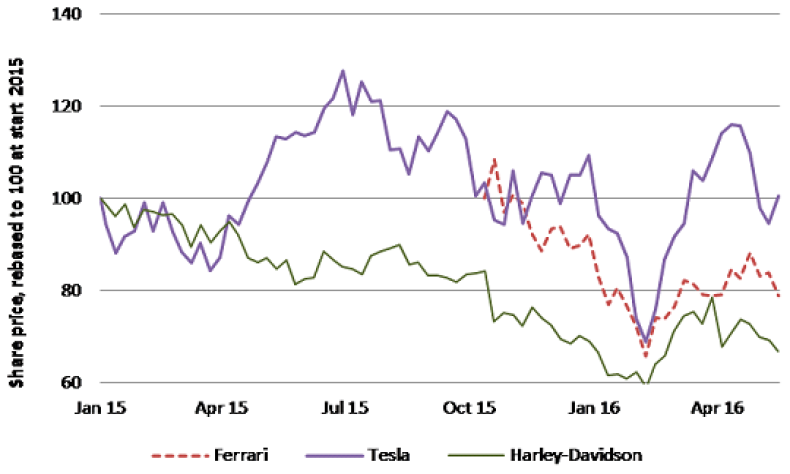 What about the four European carmakers? They certainly appear to be much cheaper than Ferrari and Tesla, judging by their low P/E valuations (see table 8). However, once again their share price charts do not look too encouraging, with all four companies' share prices far below their early 2015 highs (see chart 2).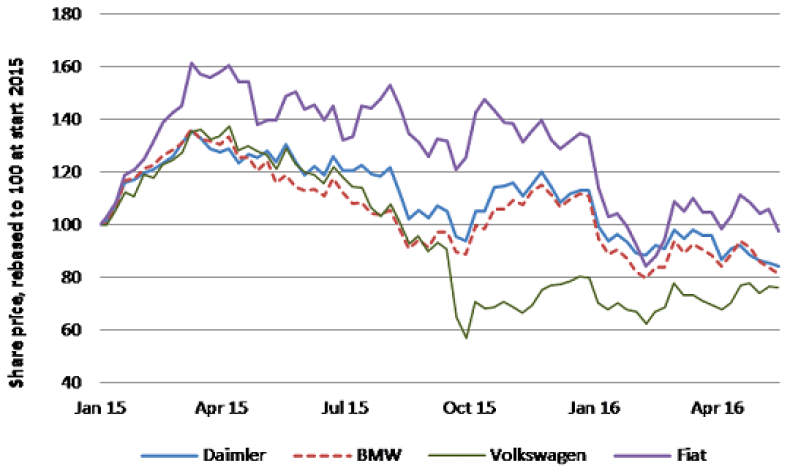 Bottom line: While I am looking forward to what Evans and his co-presenters have in store for us in the new Top Gear series, I would take a pass on carmakers' shares for now.