UK house buyers are being pushed into a higher stamp duty tax bracket as the average price of a house now exceeds the £250,000 limit, which sets stamp duty at 1%.
According to government statistics, around 25% of homebuyers this year are paying 3% stamp duty on their house, compared with just one in 10 people in 2003.
According to the Office for National Statistics (ONS), the average price of a UK house is now around £262,000 (€330,306, $442,193). Even buying a home in the the north east of England has jumped 4.8% to £150,000, meaning more people are paying stamp duty, while the average cost of buying a place in London has spiralled 20.1% to £492,000.
Britons pay 1% stamp duty on properties worth £125,001 to £250,000, while others pay 3% stamp duty tax on homes worth £250,001 to £500,000 [Figure 1].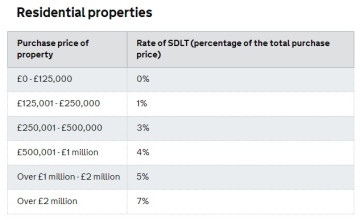 The HMRC revealed recently that it collected the most stamp duty on property purchases in seven months during June as house prices and sales continued to rocket across the UK.
Britain's taxman added that it saw the most property sales since the end of 2007, in June, with 109,580 transactions.
It collected £898m from stamp duty tax in the same month, the highest since November 2013 when £960m was raked in.
"Stamp duty remains the greediest of Labour's stealth taxes. It may be a cash-cow for Treasury bean-counters, but it warps the housing market and knocks aspirational Britons for six," said Dominic Raab, the Tory MP for Esher and Walton, to the Telegraph.
"The 3% rate was introduced to target the rich, but the static threshold means it now wallops average homebuyers — and it's particularly punitive in London and the South East."
Anne Main, the Tory MP for St Albans, added: "It is unfair and unjust that young people are being so disproportionately affected by stamp duty in certain parts of the country. We have sucked a whole load of people into stamp duty that never used to be in it."
"When there are so many inequalities [in the stamp duty system] we must look at it. Taxes should be fair and proportionate. I am beginning to feel this one isn't."