There is no silver bullet to end the current crisis in UK housing, according to the coalition government's housing and planning minister, Brandon Lewis.
House building is rising sharply in the UK. Demand is growing quickly as the economy recovers and interest rates stay low, fuelling a spike in house price growth because of the supply shortage.
But house building activity is still well short of what is needed to meet the ever-rising level of demand across all sectors of the market, including the private rented sector, social housing and affordable homes for first time buyers. A lack of homes is set to be one of the defining issues of the 2015 general election.
"I've been quite open with the fact that we have not built enough houses in this country for a very long time. Probably two or three decades, if not more," Lewis, who is the Conservative MP for Great Yarmouth, told IBTimes UK in an interview.
"We do need to be building more houses, there's no doubt about that.
"One of the things with the housing market is it is a very complicated market with a lot of different sectors. We can't look and think that there is one issue that is causing a problem, or one silver bullet that's going to fix it."
Lewis pointed to the government's initiatives such as planning law reforms, stimulus for the mortgage market like the Help to Buy scheme, and extra money for councils wanting to build new homes as among the reasons there has been a renewal in house building.
There were 137,010 housing starts in England during 2014, a 10% increase on the year before. But there was a slowdown in the final two quarters of the year, with a 10% quarter-on-quarter decline in the third and fourth.
However, there were also 253,000 planning permissions granted for the construction of new homes in 2014, up 12% on the year before.
Some argue that this is down to the natural correction in construction sector output after its collapse during the financial crisis, as house builders pick up the slack amid a recovering economy.
But Lewis says this is evidence that the government's red tape-cutting planning reforms, which has included condensing 7,000 pages of guidance down into a 50 page National Planning Policy Framework (NPPF), are working.
"That's because we're trusting local people. What we're doing is getting local people involved in the planning process gives them confidence over the fact that the homes they will get are the homes that they need and are appropriate for them," he said.
"In the right places, in the right structure, with the right infrastructure as well. And that's given confidence to people. And that's why people's acceptance and support for development has shot up to about 57% when it was very, very low back in even 2012."
He added: "The planning system is not actually now what builders are saying is the issue. The biggest challenge to the construction industry is the skills shortage."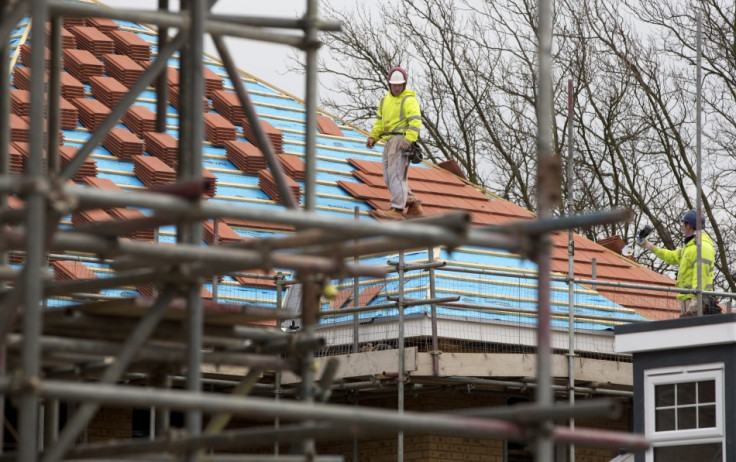 Lewis said because of the government's efforts and a healing economy, which means mortgages are cheaper and easier to access, that the country is on course to build 200,000 new homes a year by 2017.
But that is still well below the 245,000 a year needed in England alone until 2031, as estimated by the Town and Country Planning Association in a September 2013 report, because of the UK's rising population. The Office for National Statistics (ONS) forecasts the UK population to hit 73.3 million people by 2037, a 15% increase on 2012's figure.
"There's lots of different estimates of what the building level should be," Lewis said.
"I think what we've got to be very clear about is the reason I don't do the whole target thing is actually setting a target that you're going to build X number of homes a year misses out on the really key fact: we've got to make sure we're building the right homes, for the right tenure, in the right places, for the right people.
"By that, what I mean is whether somebody wants shared equity, whether they want the private rental sector, whether they want to buy outright, whether they want to buy a starter home with the newbuild 20% discount scheme that we're going to run, whether they need affordable or social housing.
"We've got to make sure we're providing the right homes for those people in the right parts of the country and in the right places. And that's why local decision-making over planning is so important a part of the package."
He added: "What we did have when we had a top down targets system was very bureaucratically-led, and I was a councillor in those days, I remember being on the other side of it, people spent so much time arguing over the numbers they didn't actually build any houses."
What Brandon Lewis also had to say about...
Building on the Green Belt
Scrapping the borrowing cap for councils so they can borrow to fund more social housing
Housing associations building more homes