There is no silver bullet to end the current crisis in UK housing, according to the coalition government's housing and planning minister, Brandon Lewis.
House building is rising sharply in the UK. Demand is growing quickly as the economy recovers and interest rates stay low, fuelling a spike in house price growth because of the supply shortage.
But house building activity is still well short of what is needed to meet the ever-rising level of demand across all sectors of the market, including the private rented sector, social housing and affordable homes for first time buyers. A lack of homes is set to be one of the defining issues of the 2015 general election.
"I've been quite open with the fact that we have not built enough houses in this country for a very long time. Probably two or three decades, if not more," Lewis, who is the Conservative MP for Great Yarmouth, told IBTimes UK in an interview.
"We do need to be building more houses, there's no doubt about that.
"One of the things with the housing market is it is a very complicated market with a lot of different sectors. We can't look and think that there is one issue that is causing a problem, or one silver bullet that's going to fix it."
Lewis pointed to the government's initiatives such as planning law reforms, stimulus for the mortgage market like the Help to Buy scheme, and extra money for councils wanting to build new homes as among the reasons there has been a renewal in house building.
The average price of a UK house is £273,000 after rising by 8.4% over the year to January 2015. The averages by nation were £285,000 in England, £174,000 in Wales, £142,000 in Northern Ireland and £198,000 in Scotland. In London the average price was £510,000.
Source: ONS
There were 137,010 housing starts in England during 2014, a 10% increase on the year before. But there was a slowdown in the final two quarters of the year, with a 10% quarter-on-quarter decline in the third and fourth.
However, there were also 253,000 planning permissions granted for the construction of new homes in 2014, up 12% on the year before.
Some argue that this is down to the natural correction in construction sector output after its collapse during the financial crisis, as house builders pick up the slack amid a recovering economy.
But Lewis says this is evidence that the government's red tape-cutting planning reforms, which has included condensing 7,000 pages of guidance down into a 50 page National Planning Policy Framework (NPPF), are working.
"That's because we're trusting local people. What we're doing is getting local people involved in the planning process gives them confidence over the fact that the homes they will get are the homes that they need and are appropriate for them," he said.
"In the right places, in the right structure, with the right infrastructure as well. And that's given confidence to people. And that's why people's acceptance and support for development has shot up to about 57% when it was very, very low back in even 2012."
He added: "The planning system is not actually now what builders are saying is the issue. The biggest challenge to the construction industry is the skills shortage."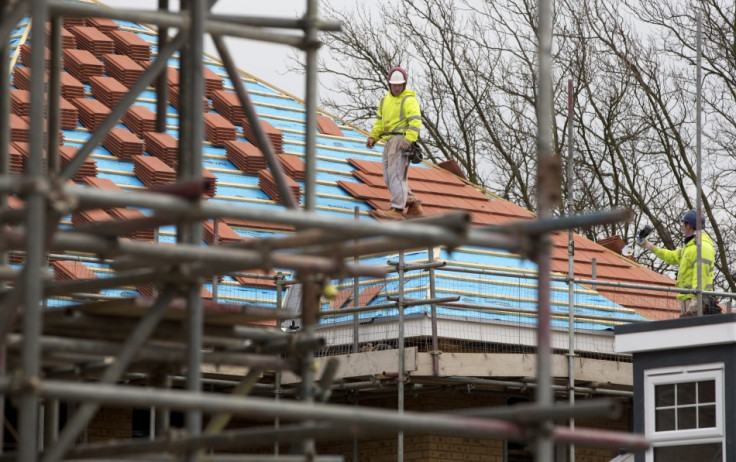 Lewis said because of the government's efforts and a healing economy, which means mortgages are cheaper and easier to access, that the country is on course to build 200,000 new homes a year by 2017.
But that is still well below the 245,000 a year needed in England alone until 2031, as estimated by the Town and Country Planning Association in a September 2013 report, because of the UK's rising population. The Office for National Statistics (ONS) forecasts the UK population to hit 73.3 million people by 2037, a 15% increase on 2012's figure.
"There's lots of different estimates of what the building level should be," Lewis said.
"I think what we've got to be very clear about is the reason I don't do the whole target thing is actually setting a target that you're going to build X number of homes a year misses out on the really key fact: we've got to make sure we're building the right homes, for the right tenure, in the right places, for the right people.
"By that, what I mean is whether somebody wants shared equity, whether they want the private rental sector, whether they want to buy outright, whether they want to buy a starter home with the newbuild 20% discount scheme that we're going to run, whether they need affordable or social housing.
"We've got to make sure we're providing the right homes for those people in the right parts of the country and in the right places. And that's why local decision-making over planning is so important a part of the package."
He added: "What we did have when we had a top down targets system was very bureaucratically-led, and I was a councillor in those days, I remember being on the other side of it, people spent so much time arguing over the numbers they didn't actually build any houses."
What Brandon Lewis also had to say about...
Building on the Green Belt
I think what we find is people don't want that kind of urban sprawl and continual growing where we lose actually a part of what makes this country so quintessentially British, which is that wonderful countryside that we enjoy.
Green belt was there for a very specific reason. It's that green lung around communities so that one village, one town, one urban area doesn't just merge into the next one. There are defined villages, areas and towns.
I think [on] brownfield there is still a lot further that we can go. We said we've got a target to deliver planning permission on 90% of the brownfield land that we've identified by 20/20. The Council for the Protection of Rural England, who I've worked with over the last six-nine months, they believe they can identify some 1.5 million properties that can be built on brownfield land. That's a lot of homes and a big chunk towards the sort of levels we want to see built over the next five years. Now there will be some of that 1.5 million that are potentially not viable, or difficult to build out. But we've identified 200,000. They think it's 1.5 million. And I'll be working with them to make sure we get to that point [...] before we start touching that wonderful green belt.
But ultimately, and this is a really important factor with green belt, it's up to local councils. It's not for a suit or somebody in a shirt in Whitehall to decide what areas do, it's very much up to the local authority. Local authorities, accountable to local residents, who know their area best, know what they need and what is right for them, can make that assessment, evidence it and make their decision locally.
Scrapping the borrowing cap for councils so they can borrow to fund more social housing
The Treasury has to keep a level of control over that to protect the public purse, to keep those low interest rates that everybody is now – who's buying a home, got a mortgage and got a loan – is now benefitting from. I think that's a very important part of our control of public sector debt.
Having said that, a couple of years ago there was still over £2bn of headroom the councils were not using, and just last summer, for those councils who have gone the whole way and have used up the headroom, we made £300m available for them to bid into, to say we want to go further and do more. And we're still taking bids for that. So councils who want to go further, who can put the case for it, we always have an open door to talk to them to make sure we facilitate. That's partly now why we're now having councils building council houses at the fastest rate we've seen in 23 years. And actually, in the last four and a bit years, five years of this parliament we've built more council houses than the entire 13 years of the previous administration.
Housing associations building more homes
There's roughly 1,600 [housing associations] now in the country. There's some doing fantastic, progressive regeneration work. Building new homes. But there is quite a lot of them who are still not taking advantage of the 22% increase in surpluses they had last year and I think we can look to see housing associations learning from some of the really good ones who do more about building more homes.
They have had a 22% increase in reserves last year. So I think there is still a lot of them making big surpluses who are not building houses who could go further. And a 1% saving in efficiency in that sector is worth well over £100m and that again will build a lot more houses. And any reasonable business out there would be saying to themselves year on year on year your administration, your running costs, you'd be looking to save one, two, three or even more percent. As I say, if housing associations just refined themselves and refined efficiency by 1%, that's over £100m they could spend a year on building houses.