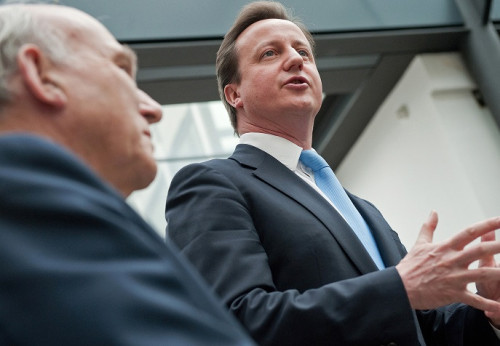 The Business Secretary Vince Cable has criticised Prime Minister David Cameron's pledge to cut annual net migration to the UK by "tens of thousands" by 2015.
Cable, a senior Liberal Democrat MP, claimed the target would most likely not be achieved due to a variety of factors the government cannot influence.
"It involves British people emigrating - you can't control that. It involves free movement within the European Union - in and out. It involves British people coming back from overseas who are not immigrants but are counted in the numbers," Cable told the BBC.
He added: "Setting an arbitrary cap is not helpful. It almost certainly won't achieve the below 100,000 level the Conservatives are setting."
But Cable refuses to dub the target "nonsense". He said: "I wouldn't use the word nonsense, but the idea it should come down to 100,000 is something the Liberal Democrats have never signed up to because we simply regard it as impractical."
These comments come ahead of the European Elections later this year, where both the Conservatives and the Liberal Democrats will battle against the UK Independence Party – who have been tipped as a strong contender.
Cable's criticism follows the government's move in December to bring forward measures that will force EU migrants to wait three months before they can apply for benefits.
Public Support Immigration Cut
The news comes as a poll revealed more than three-quarters of British people want to see a cut in immigration.
But according to NatCen Social Research's British Social Attitudes survey, fewer people now think immigration is bad for the economy - 47% in 2013 compared with 52% two years previously.
"British Social Attitudes show that public desire for a cut in immigration to the UK had begun to rise even before the restrictions on migrants from Romania or Bulgaria were lifted at the start of the year," says Penny Young, chief executive at NatCen Social Research.
She adds: "Moreover, a majority of people who think immigration is good, economically or culturally for the UK, still want to see it cut."
Young says the findings highlight the complexity of this issue for politicians, who face two elections in 18 months and have limited options if they want to attempt to reduce migration from Europe.