An independent parliamentary candidate standing for a London suburb wants to change the UK political system by allowing her constituents to decide all her votes using a mobile app if she gets elected.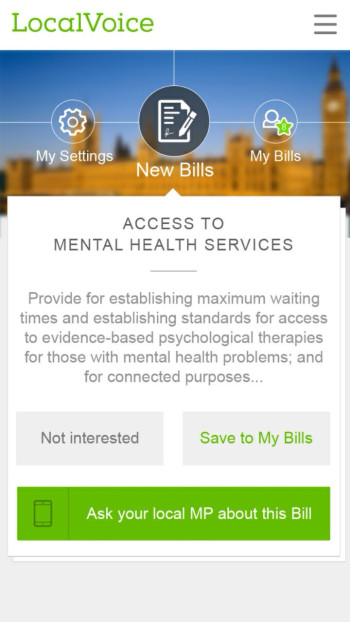 Lucy Hall, 25, is standing to become an independent MP to represent Bermondsey and Old Southwark. She has an undergraduate degree in history and politics from Manchester University and a masters in political theory from University College London. She was also a former member of the Labour Party and worked on Ed Miliband's campaign in 2010.
"I've become disillusioned so I decided to take matters into my own hands. The reason I'm running for Parliament is I believe in direct democracy and that the political system in the UK is broken," she told IBTimes UK.
"People are completely disillusioned, everyone thinks all political parties are the same and the people don't have any power. We vote once every five years and then the politicians are virtually unaccountable for five years.
"The app is the vehicle for how we can do this – the idea is that we'd have a website and an app running alongside it. Constituents would be able to vote on every bill that passes through parliament."
The app, which will be built by Mint Digital, should Hall get elected, will feature an interface where users can read about various bills and then click to vote on them.
Constituents can also use the app to contact Hall and her team to either ask for clarification or relay their concerns, and it will be securely encrypted to keep all data confidential.
Making UK politics more democratic
"If I'm elected I'll be focusing on education but not just the institutional kind. I want to get politics on to timetables in schools and set up free politics discussions in community centres," said Hall.
"My vision to get politics to not be removed from regular people but to become a habit, a part of daily life, like it is in other European countries. I would hope that if I do achieve that, then voting on bills won't be a chore, it will become a habit for people."
But Hall says she knows the odds are against her as a new independent candidate who has only been running since March, especially in the key election constituency of Bermondsey and Old Southwark, where Simon Hughes of the Liberal Democrats has been in power since 1983.
Despite the fact that the party has seen its popularity plummet steadily over the past five years, Hughes has a strong standing with the working-class community in the old docklands and the ethnic minority community for transforming one of the poorest areas in London over the past three decades.
"Just to be clear, I don't have a problem with Simon Hughes personally and realistically it's unlikely that I'm going to get voted in, but I'm standing because I think there's some chance of it, and I think it's a very important idea. I want to ruffle a few feathers and make some sort of dent in the political system," Hall stressed.
"I'm not here to enforce my views, but I'm here to listen and represent people properly and get people talking to each other and engaged in politics."