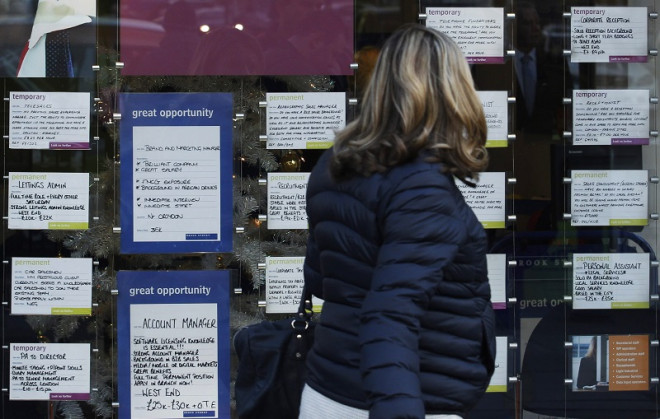 There were more than 30 million people in employment across the UK in three months to February as the country's unemployment rate tumbled to 6.9%.
But the figures from the Office for National Statistics (ONS) also showed that the UK has a North/South divide when it comes to joblessness.
The South West saw its unemployment rate tumble to 4.9%, down from 6.8% on the previous quarter.
Likewise, the South East saw its total jobless rate fall to 5.1% in the three months to February, down from 5.3%.
However, the trend is reversed as you travel north. The West Midlands, for instance, saw its jobless rate rise to 8.2% from 8.1%.
The region saw 2,000 more people out of work over the period as the jobless count hit 224,000.
Northern Ireland also experienced a hike in its unemployment rate as it hit 7.7% in the three months to February, up from 7.3% on the previous quarter.
Similarly, Yorkshire and Humber's jobless rate climbed to 8.5%, up from 8.4%.
Even in the regions where the out of work rate has fallen – the North East (9.3%) and the North West (7.6%) – the rates still well above the national average.
The figures could cause a political headache for the Coalition Government, who have celebrate the overall jobless rate falling.
"More young people are in work, more women are in work, wages are going up, and more and more businesses are hiring – and it's a credit to them that Britain is working again," said Esther McVey, Minister for Employment.
There is also a generational divide in the unemployment figures.
The overall 16 to 24 year old jobless rate fell to 19.2% in the three months to February, according to official figures.
That means there are more than 880,000 young people out of work in the UK as well as 2.5 million economically inactive 16 to 24 year olds.
The Labour Party have picked up on this point.
"While this fall in overall unemployment is welcome, today's figures show nearly 900,000 young people are unemployed and long-term youth unemployment has soared under David Cameron," said Rachel Reeves MP, Labour's Shadow Work and Pensions Secretary.
The headline labour market figures are encouraging – there are more people in work and the UK's economy is strengthening.
But after unpicking the data, there is a clear generational and regional divide in the country's workforce.
This could create serious political and social ramifications as Britain continues to recover from the financial crisis of 2008.