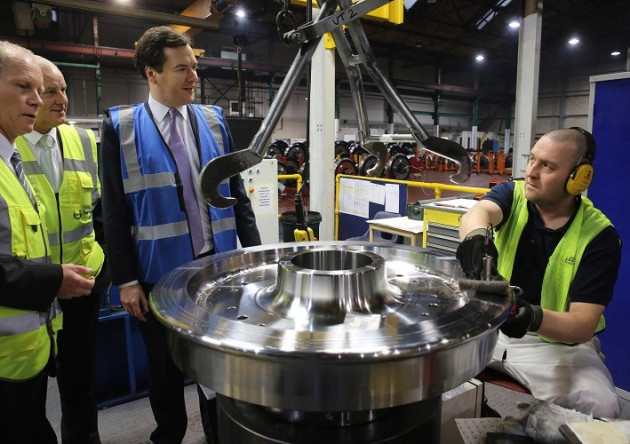 Britain's manufacturing sector kept up the strong momentum of its output growth at the beginning of the fourth quarter, a sign that the country's long-awaited economic recovery is sustaining itself.
The Markit/CIPS UK manufacturing purchasing managers index (PMI) for October came in at 56.0, down slightly on September's 56.3 but still well in growth territory. Any figure above the neutral 50.0 market represents growth, while below means a contraction. The index is compile from surveys of private industry purchasing managers.
UK GDP growth gathered pace in the third quarter, with the Office for National Statsitics (ONS) reporting a 0.8% expansion. Second quarter growth was 0.7% and the year's opening three months saw 0.3%. Chancellor George Osborne has declared the UK as "on the path to prosperity".
"Despite only accounting for less than 11% of the economy, the current strength of growth seen in manufacturing means the sector will still provide a major boost to the economy in October, boding well for the strong pace of economic growth we saw in the second and third quarter being sustained into the fourth quarter," said Rob Dobson, senior economist at survey compilers Markit.
"Maintaining this solid expansion will be important if we are to see any real signs of the economy rebalancing, as manufacturing remains 9% smaller than its pre-crisis peak, while services have already closed the gap.
"The latest increase in employment also suggests that the manufacturing sector is creating jobs at a solid pace, which should help bring unemployment down in coming months."
A recent report by banking giant HSBC warned Osborne to focus on the quality of the recovery because not enough rebalancing has been done towards manufacturing and narrowing the current account deficit through greater exports. Instead, said HSBC, the UK remains heavily reliant on debt-driven consumption.
"Following the pre-crisis credit boom, the UK needs less consumption and more saving and investment," said Simon Wells, HSBC's chief UK economist, in his research note.
"It needs to import less and export more and, as part of this, probably shift away from services and towards manufacturing.
"This is well known but since 2007, activity has become more unbalanced. And with policies to boost the housing market alongside the BoE's intention to keep interest rates low for several more years, the UK risks a return to bad habits.
"Deferring an inevitable adjustment down the road may make it more painful when it finally occurs."
Wells added: "The recovery is welcome but the UK needs to look beyond just the quantity of growth and start focusing on the quality."