British police databases are currently storing more than 20 million facial recognition images including scans of innocent civilians not suspected of committing a crime, the UK's independent Biometrics Commissioner revealed this week (23 August).
Professor Paul Wiles, appointed to the role in June 2016, released his first major analysis of the police systems just prior to the launch of the 2017 Notting Hill Carnival in London, which is being used as a testing ground for face scanning capabilities for the second year running.
"The police already hold over 20 million facial images but there is as yet no single, shared policing system for storing and searching police held images nor an evaluation of its accuracy," Wiles stated in his report, published on the UK government website.
"Tests of facial matching for spotting individuals in large crowds have so far had very poor success – hence the Metropolitan Police's trial. It is good that they have made their trial public but they must carry out a proper evaluation and publish the results," he added.
In an interview with Sky News, Wiles said the technology risks damaging the long-standing British model of "policing by consent".
Sky News also reported that the UK government had green-lit use of the images, despite a 2012 High Court ruling which said their retention was unlawful.
In his analysis report, Wiles noted that use of facial images in public places "is very intrusive of individual freedom [...] because images can be captured without the subject being aware."
A Home Office spokesperson said: "Facial searching plays an important role in the detection and prevention of crime. There is a clear need to strike a balance between protecting an individual's privacy and giving the police the tools they need to keep us safe.
"For this reason we published the Custody Image Review in February 2017 under which people not convicted of an offence have the right to request that a custody image is deleted from all police databases [...] unless there is an exceptional reason for it to be retained."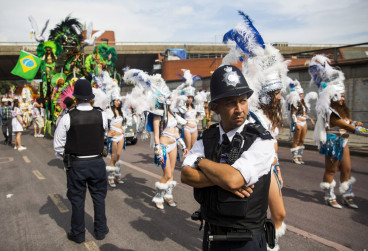 But human rights and privacy campaigners remain opposed to the use of biometrics.
Much remains unclear about how face scanning is used in reality, especially how they are shared between departments and the process of obtaining them in the first place.
"That the police hold such a vast number of images is of concern," a spokesperson for the UK Open Rights Group told IBTimes UK.
"We need more transparency about the circumstances in which images are held, how long they are stored for and when they are deleted.
"It isn't good enough for the police to say that we can ask for any images of ourselves to be deleted.
"The increased use of facial recognition technology – for example at this year's Notting Hill Carnival – means that many people will not be aware that their image has been captured and stored. If we have not been charged with a crime, our image should be deleted automatically.
"There are also concerns about the efficacy of facial recognition software, which may be more likely to misidentify people of colour."
The same argument was recently put forward in a joint letter to senior police chief Cressida Dick CBE, signed by the Race Equality Foundation, Big Brother Watch, Black Lives Matter UK and more.
It branded the technology "undemocratic, unlawful and discriminatory".
The two-day carnival, which has been taking place since the mid-60s, is a celebration of London's Caribbean communities and will begin on Saturday 26 August.