Nude images showing "50 Shades of Grey" actor Dakota Johnson and Californication's Addison Timlin posing in a shower have been published online by a shady website at the centre of the latest round of explicit celebrity leaks, sometimes referred to as The Fappening 2.0.
There is a variety of images now in the public domain, including Johnson posing semi-nude in a bathroom, topless with friends gathered around a swimming pool and also lying on a bed. It remains unclear how the pictures were obtained, but hackers have been blamed in the past.
The leak is the latest in a long-line of posts on a controversial website, which uses the mocking motto: "Explosive celebrity gossip from Islamic extremists".
In the past week, images posted included golfing legend Tiger Woods, athlete Lindsey Vonn alongside other stars such as Kristen Stewart and Katharine McPhee.
It is currently touting a "preview" of leaked material from Nicole Scherzinger, a singer and actress best known for leading pop group The Pussycat Dolls.

The website has now allegedly been hit with a slew of cease-and-desist notices from the latest victims.
The website's owner – who as noted by The Daily Beast uses the name "Durka Durka Mohammed" to troll people online – this week agreed to take down the images of Woods and Vonn, who were once in a relationship, after being hit with legal complaints.
"We publish anything we find that exposes the vile celebrity harlots for what they truly are," he told The Daily Beast.
"We have long suspected that heathen Hollywood is filled with these sorts of dens of vile lesbodyking, but thanks to these leaked photos we now have indisputable proof," a description read, posted under the brash headline: "Dakota Johnson's nude lesbo photos leaked".
Vonn released an official statement – via a spokesperson - which appeared to back up the suspicion that celebrities' personal online accounts were being hacked.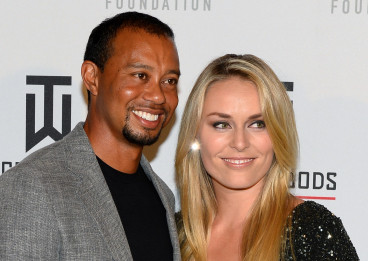 "It is an outrageous and despicable invasion of privacy for anyone to steal and illegally publish private intimate photos," the statement, provided to TheBigLead, read.
It continued: "Lindsey will take all necessary and appropriate legal action to protect and enforce her rights and interests.
"She believes the individuals responsible for hacking her private photos as well as the websites that encourage this detestable conduct should be prosecuted".
Katherine McPhee is also reportedly exploring legal avenues to get the images removed.
The website is currently spewing out salacious A-list pictures on an almost daily basis. Questions remain about how they were obtained, and when. Some uploads to the website are clearly fake, and other posts contain X-rated scenes filmed for legitimate Hollywood movies and TV.
The Fappening 2.0, or "Celebgate" as it's also known, has impacted hundreds of well-known names. In mid-March 2017, private pictures were posted online featuring female actors, singers and wrestlers, including Emma Watson, Amanda Seyfried, Alison Brie and Rose McGowan.
That followed the initial leak of celeb snaps back in 2014, at the time blamed on weak cybersecurity protections on Apple iCloud accounts. A US law enforcement operation later resulted in numerous arrests. One culprit, 36-year-old Ryan Collins, was jailed for 18 months last year.
Here is every celebrity impacted by the fresh leaks so far:
Tiger Woods

Nicole Scherzinger (preview)
Addison Timlin
Amy Willeron
Daktota Johnson
Danielle Lloyd
Willa Holland
Jessica Gomes

Lindsey Vonn

Kristen Stewart

Miley Cyrus

Katharine McPhee