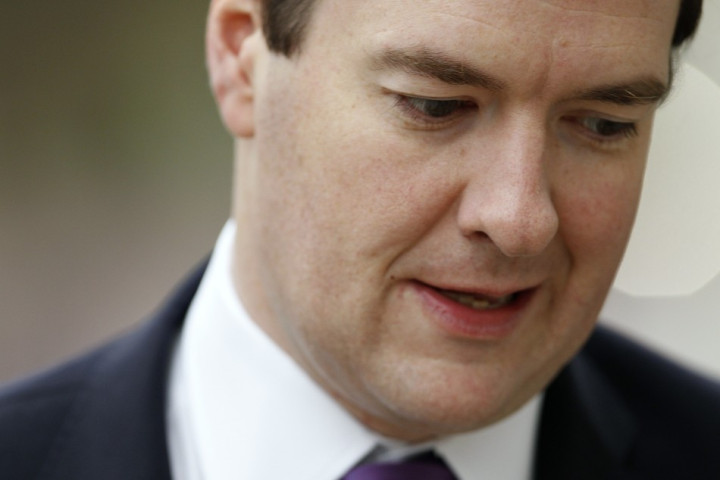 While frantic Treasury spin doctors desperately try to work out what to say in reaction to the devastating GDP figures for the second quarter, analysts and commentators have not held back in their damning verdicts on the -0.7 percent collapse in output from the UK economy.
Lost output from the extra day off during the Queen's Diamond Jubilee and wet weather are to blame, said the Office for National Statistics, as construction sector activity slumped to a -5.2 percent decline, while the service sector - representing three quarters of GDP - unexpectedly dropped by -0.1 percent.
Here's what some have had to say about a bad day for Chancellor George Osborne.
Peter Dixon, Commerzbank
"Terrible data. Frankly there's nothing good that comes out of these nmbers at all. I know we were expecting a poor number because of the Jubilee and the effects it would have on output but it's way worse than anticipated.
"It's hard to see now how we're going to get an even flat figure for the year, even though we're expected to get a rebound in Q3.
"The economy looks to be badly holed below the water line at this stage. It's a far worse period of activity than we'd expected."
Howard Archer, IHS Global Insight
"This really is a very nasty surprise indeed. GDP contraction of 0.7 percent quarter-on-quarter in the second quarter is far deeper than anyone expected and is a very disappointing and worrying performance.
"Plunging construction and manufacturing output weighed down heavily on the economy while service sector activity also contracted marginally.
"We expect UK GDP to contract by around 0.5 percnet overall in 2012.
"Meanwhile, the steep contraction in GDP in the second quarter heaps further pressure on the government to come up with more measures to boost growth, and will undoubtedly lead to further calls for the fiscal squeeze to be eased until the economy is on a firmer footing.
"It also fuels speculation that the Bank of England will have to announce more stimulative measures this year.
"We think this would be more likely to be in the form of further Quantitative Easing in the fourth quarter rather than taking interest rates below 0.50 percent although we would not rule out such a move."
Brian Hilliard, SocGen
"This is amazingly weak, the thing that surprised me more than anything was the size of the fall in manufacturing, it's clear that it's hostile but not as hostile as this. It's clearly going to be reversed in Q3.
"Everyone is going to worry that this means the recession is deepening, I think that's wrong. we are still struggling along with minimal positive underlying growth."
Ross Walker, RBS
"It's obviously a disappointing outcome. Everything's a little bit weaker than expected. The construction fall looks implausible, the scale of it.
"The main disappointment is the services number. We thought even with the drag from the Jubilee that we would probably just about squeeze some growth out of that sector and it's contracted.
"So there's a lot of noise but looking through the noise you conclude the underlying picture is a little bit weaker. It makes more policy loosening more likely, though probably not before November.
"The only upside is a fall of that magnitude in Q2 means that you're going to get some bounce in Q3."
Alan Clarke, Scotiabank
"This is a disaster for UK growth. It looks like construction has done a lot of the damage. In no uncertain terms disaster and on average for the year it's looking very unlikely that we'll be on the right side of zero growth. More likely we'll be contracting."
Tony Dolphin, IPPR chief economist
"The UK economy remains mired in recession. There is now little chance of the OBR's forecast of 0.8 per cent growth in 2012 being achieved and even the IMF's forecast for growth of 0.2 per cent, made only last week, is now under threat.
"Before the financial crisis, the economy was expected to grow, on average, at an annual rate of 2¼ to 2½ per cent. So, output in 2012 will be almost 15 per cent lower than might reasonably have been expected before the financial crisis.
"The Chancellor should take immediate steps to implement a combination of Keynesian and supply-side policies to get the economy growing again in the next few years and to ensure growth is sustained well into the medium-term. These should include temporary tax cuts and a boost to infrastructure spending not offset by cuts elsewhere. This would mean borrowing more in the short-term.
"The IMF has given the thumbs up to this approach, saying 'The UK has the fiscal space to make such adjustments'.
"In the light of the deteriorating situation in the euro zone, the Chancellor should also publish details of the Government's contingency plans for a serious worsening of the euro zone crisis. Assuming these plans are credible, this would reduce some of the uncertainty that is holding back business investment and recruitment and be a cost-free way of potentially boosting the economy."
Richard Driver, analyst for Caxton FX
"This morning's GDP figure is little short of a disaster for the UK economy and a humiliating blow to George Osborne. The government will surely have to adjust its austerity stance now and a clearer growth strategy must be put in place to get Britain back on track.
"The main drivers of the sharp contraction can be blamed on further declines in the UK construction, manufacturing and agricultural sectors.
"While we are expecting a mild recovery in the second half of the year, particularly in light of the Olympics, the risks of further contraction are increasing all the time.
Prof. Philip Booth, Editorial Director, at the Institute of Economic Affairs
"An expanding private sector is the key to economic growth. The government must do more to prevent stagnation of the economy. The four key measures it could take are a serious liberalisation of planning law; deregulation of labour markets; an end to the completely incoherent "green" policies; and radical reform of the welfare state.
"There are many factors impeding growth that are beyond the government's control, such as the eurozone crisis. That is not an excuse for inaction in those policy areas where the government can make a difference.
"Productivity and not unemployment is the main problem. As such, increasing government borrowing from current levels is clearly not the answer. It is time for bold supply side reform."
John Cridland, CBI director-general
"These are very disappointing figures. They show there has been a lack of growth in the first half of 2012.
"When I talk to businesses on the ground, however, the overwhelming view is that right now the economy is flat rather than negative, and there is potential for Britain to get back into growth later in the year."
Scott Corfe, CEBR
"Despite growing calls for a move away from 'plan A', we don't expect much policy response from government after today's news, though pressure will grow for a change of direction. government is likely to be reluctant to change course for two reasons.
"First, with financial markets fixated on the issue of sovereign debt as Spain's fiscal situation looks increasingly unsustainable, moving significantly away from the UK's own deficit reduction plans could trigger an increase in government borrowing costs.
"Secondly, there would be significant political embarrassment from changing course.
"If there is a further policy response after today's news, it is more likely to come from the Bank of England in the form of more quantitative easing (QE). Our central forecast is for the Bank to expand its programme of QE by a further £50bn later this year, bringing the total stock of assets purchased to £425bn."