As Russia and the West continue to swap claims and counter-claims over who brought down Malaysia Airlines flight MH17 over eastern Ukraine, the UK has announced plans to send a "full battle group" to Poland to join forthcoming Nato exercises.
"Exercise Black Eagle" will take place in October and will be a demonstration of unity with Eastern European and Baltic States. The military exercise was announced by Michael Fallon during a visit to Polish capital Warsaw with Foreign Secretary Philip Hammond. Fallon made clear that Russia's activities in the region would not be tolerated.
Russia's annexation of Crimea and suspected involvement in the conflict in Ukraine has seen an increase in Nato's military activity in Eastern Europe. Nato's Baltic Air Policing mission now has 12 planes patrolling the skies, including four RAF Eurofighter Typhoon jets, four from Poland and four from Denmark. Next month the UK is also committing troops to the US-led "Exercise Sabre Junction", involving a total of 16 countries, again in Poland.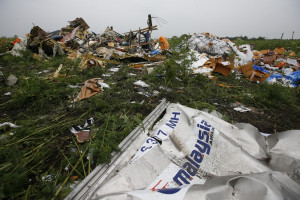 Fallon said: "We have a strong opportunity at the Nato summit [in Wales in September] to discuss how we will continue our response to Russia's illegal annexation of Crimea and its destabilisation of eastern Ukraine. The UK is playing a central role and we are not ruling out further enhancements."
Russian President Vladimir Putin is deeply troubled by Nato's continued expansion east, viewing it as a threat to Russia. He has called the organisation an "offensive weapon" which is an "element of the US offensive system deployed outside the (US) mainland."
Recent comments by US President Obama might have given Putin ammunition for his concerns. In May Obama was quoted as saying, "(Putin) felt as if he was being further and further surrounded by NATO members, folks who are looking west economically, from a security perspective."
Speak at an emergency Security Council meeting in Moscow last week Putin warned: "We shall provide an adequate and well-measured response to NATO's expansion towards Russia's borders, and we shall take note of [the West] setting up a global missile defence architecture and building up its arsenals of precision-guided weapons."