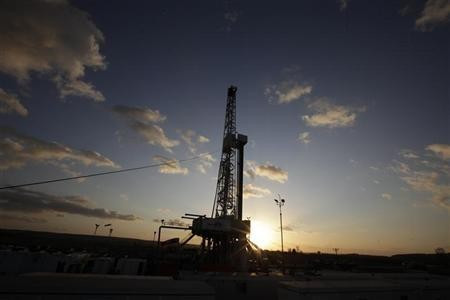 Britain could see a quadrupling of shale gas drilling licences, after UK group IGas Energy estimated that its own licence in north west England could contain over 170 trillion cubic feet (tcf) of the unconventional gas.
The company said in a statement that technical studies revealed that there is an estimated range of between 15.1 tcf and 172.3 tcf, for gas in place at its licences in the region, with a most likely estimate of 102 tcf.
Analysts say that based on IGas' estimate of the fuel held within the 300 square miles of shale formations, the company is licensed to drill in the northwest of England, permits could increase four-fold.
The bountiful reserve estimate sent IGas shares soaring to 15% at one point in early trading before resting around the 12% level of 103.89p.
Shale gas uses hydraulic fracturing - known as fracking- which involves drilling holes deep into the ground and then using high-pressure liquid to fracture shale rocks to release gas trapped inside.
Shale gas, as part of the unconventional gas sector, could loosen some of the UK's heavy reliance on Qatar and Russia for its gas needs.
One of the UK's exploration and development groups - Cuadrilla - believes it could supply a quarter of the UK's gas needs from a resource in Lancashire.
"There are already over 300 licences for onshore exploration and development, conventional and unconventional, a fifth of which are substantial," said UK energy minister Michael Fallon last month in an All Party Parliamentary Group for Unconventional Gas & Oil (APPG) meeting in the House of Commons.
IGas, which is set to start drilling later this year, said in a statement that a study of its resources "supports our view that these licenses have a very significant shale gas resource with the potential to transform the company and materially benefit the communities in which we operate."
The new estimate follows its rival's - Cuadrilla - estimate that its field in the same region in north west England may hold as much as 200 tcf.
In December last year, the UK government lifted the ban on shale gas exploration, which uses a controversial method of extraction that has come under scrutiny from environmentalists.
Conservative MP Dan Byles, who has spoken at length with IBTimes UK in the past about the potential for shale gas discoveries, says the industry could create as much as 30,000 jobs for Britons.