An 18-year-old who was caught brandishing a large sword while wearing a ski mask in a residential estate of South East London has been jailed for more than three years.
Nathan Boyce, of Argyle Road, Woolwich (SE18), was found guilty of possession of an offensive weapon and breach of a criminal behaviour order on Wednesday (3 January) at the Woolwich Crown Court, the Metropolitan Police confirmed in a release this week.
On 24 August last year, officers from the Greenwich Borough Gangs Unit (GBGU) were called after a man was spotted acting suspiciously in the Leda Road area.
Upon arrival, police found Boyce attempting to disguise his face with a ski mask.
CCTV footage from the area later showed the teenager in possession of a samurai-like sword, which he had stuck in the ground behind a tree minutes after he realised that the officers were closing in on him.
Boyce was found to be in breach of a criminal behaviour order relating to a separate knife offence dating back to 2016. He was arrested for possession of an offensive weapon and breach of the order. DNA evidence linked him to the sword.
On 25 August 2017, Boyce was charged and remanded in custody to await trial. He pleaded not guilty on 2 January (Tuesday) but the court found him guilty the following day.
"Knife crime devastates the lives of victims, their families and the communities of London," said detective constable Martin Langley from the Greenwich Borough Gangs Unit Thursday.
"Nathan Boyce was armed with a sword in a residential estate and, if used, it could have had catastrophic consequences. The Greenwich Gangs Unit, and the Metropolitan Police as a whole, will put themselves in between the community and those who wish to cause harm."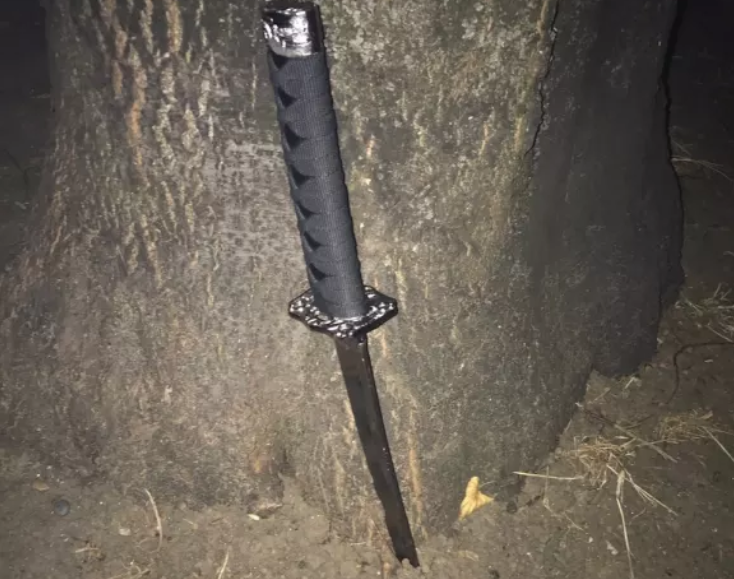 Boyce was sentenced to three years' imprisonment for possession of an offensive weapon.
He also received six months' imprisonment, to run consecutively, for breaching the previously-issued suspended sentence relating to knife possession alongside three months' imprisonment, set to run concurrently, for three counts of breaching a criminal behaviour order.
Additionally, he was issued a new criminal behaviour order for a period of five years.
"I urge members of the public to report knife carriers to police or anonymously via Crimestoppers - you will almost certainly save a life," detective constable Langley continued. "We will not tolerate it, and we will take robust action against those who choose to possess any knife."