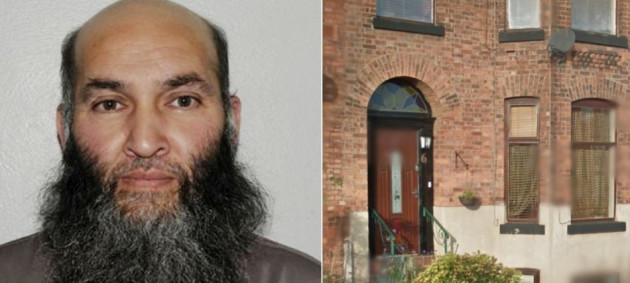 A man who plotted to recruit homegrown terrorists to kill British troops overseas from his home in Manchester faces losing his property in a landmark legal battle.
Police in Manchester have launched the first ever bid to seize property belonging to a terrorist. The large Victorian house in a district of Longsight where similar homes are worth £160,000 belongs to Munir Farooqi who was jailed for life for preparing acts of terrorism, soliciting murder and spreading terrorist material in 2011.
Seven relatives of the father of three, who used to run an Islamic bookstall at a local market, still live at the property. Police admitted that their bid to seize it has angered some local Muslims.
Manchester constabulary said it would press ahead with its application to seize the house as a terrorist asset. It came after Farooqi lost his appeal against his life sentence at the High Court.
The power to take possession of family homes is contained in the Terrorism Act 2000. Assistant Chief Constable Steve Heywood denied it would be punishing Farooqi's relations for his crimes.
He said: "This is unequivocally not about punishing family members, but demonstrating that if a convicted terrorist who was planning to recruit people to kill our soldiers aboard used a property to carry out this sort of criminality then it should be seized and any monies raised used to fund the ongoing fight against terrorism.
"I want to be clear that this decision is not about Munir Farooqi's family. This family own, outright, two other properties and will not be made homeless.
"We understand this is an emotive issue and we have met regularly with representatives from local mosques, elected members and others to hear their views. The family will also have the opportunity to make their case and the court will take all these matters into consideration and make a final decision."
Farooqi joined the Taliban in the aftermath of the 9/11 attacks in New York and was captured in Afghanistan in November 2001. He returned from captivity to Manchester in 2002 and set about finding young recruits to kill British troops overseas.
He was convicted with two other men in 2011 of terrorist offences. A police spokesman called it an "organised attempt in Manchester to recruit men to fight, kill and die in either Afghanistan or Pakistan by persuading them it was their religious duty".
"That is not an expression of religious freedom but a concerted effort to prepare people to fight and kill our own soldiers abroad. In law, that is terrorism."
The case continues.