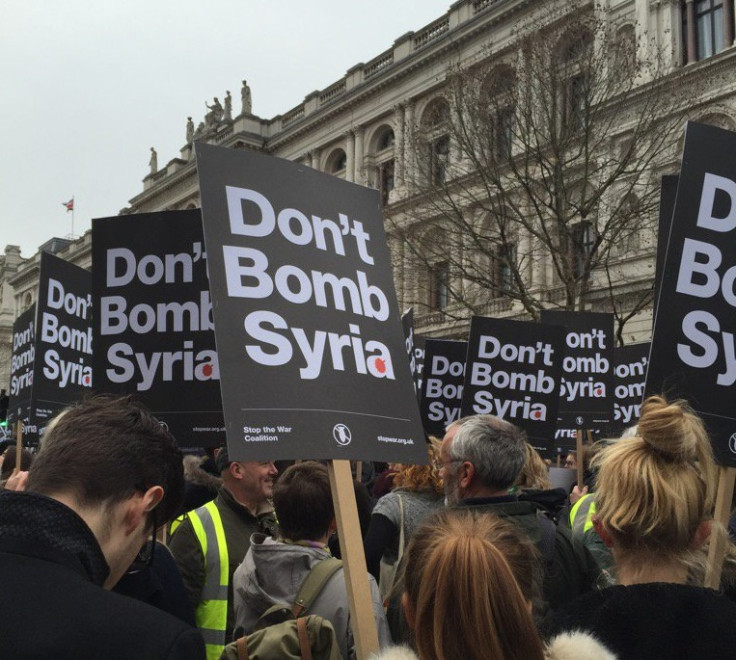 Thousands of protesters have taken to the streets in 18 UK cities today (28 November) to demonstrate against plans to bomb Islamic State (Isis) targets inside Syria. The protests, organised by the Stop The War Coalition, are expecting at least 6,000 people to take to the streets of London, Birmingham, Bristol, Cardiff, Leeds, Manchester, Newcastle, Nottingham, Sheffield, Norwich and Swansea.
The Stop The War Coalition's former chairman and Labour leader, Jeremy Corbyn, has told Labour MPs that he cannot support air strikes in Syria causing a rift in the shadow cabinet. Currently, the UK is carrying out air strikes against IS targets in Iraq.
But British PM David Cameron has affirmed his belief that by bombing IS targets in strongholds such as Raqqa we help to prevent terrorist attacks in the UK. A number of Labour MPs also share this view including Hilary Benn, the party's shadow foreign secretary, who argued that there was a "compelling" case for British air strikes as well as deputy leader Tom Watson.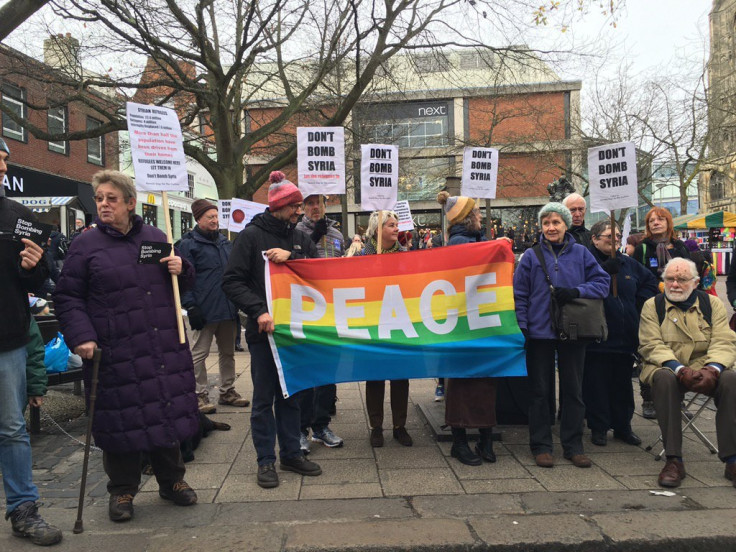 The Downing Street protest began at midday and a number of famous faces have signed a letter delivered to number 10. The names include actor Mark Rylance, musician Brian Eno Musician, Former UN Assistant Secretary-General Hans von Sponeck, comedian Frankie Boyle Comedian and writer Will Self.
The Stop The War Coalition, founded in 2001 to oppose the US's "war on terror", asks MPs to not ignore recent history and to "stop arming reactionary and aggressive regimes like Saudi Arabia and Qatar". Protesters have been chanting "stop the war" and "hands off Syria". A commons vote is expected on the matter in the coming days.
The letter says: "The current rush to bomb Syria following the terrible events in Paris risks a dangerous escalation which will inflame the war there and increase bitterness against the West. The US has been bombing Isis for a year and admits that Isis is as strong as ever and has continued recruiting.
"The experience of the wars in Afghanistan Iraq and Libya shows that Western military interventions lead to large-scale casualties, devastating destruction and huge flows of refugees. Far from tackling terrorism the last fourteen years of war have seen massively increased Jihadi terrorist organisation around the world."