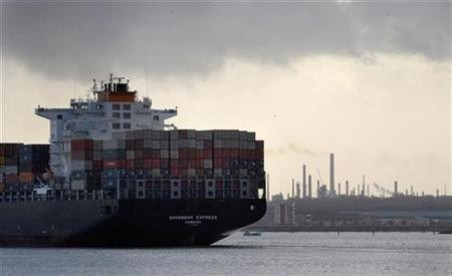 Britain's trade deficit narrowed slightly across the year in the three months to October, according to the Office for National Statistics (ONS).
A slimming deficit in goods trading made up for a falling surplus in services.
The difference between overall exports and imports fell to £22.9bn, excluding oil and erratic items, down £400m on the same period the year before.
Goods trading dropped to a £22.9bn deficit in the three months to October, down from the previous year's £23.3bn.
Services had a surplus of £17.9bn, down from £19.9 a year before.
The ONS said goods exports had been erratic in 2012 "with no clear pattern", as an extra public holiday and the unpredictable global economy weighed heavily.
"Taking the first ten months of 2012 together, the deficit has been running at an average of £8.9bn a month," said the ONS.
"This is higher (in current prices) than in 2011 when it averaged £8.4bn.
"However, it is clearer that trade volumes have been rising over the past year, while prices have declined."
There has also been a shift in UK trading said the ONS, with exports of goods to the EU declining in volume by 5.2 percent while shooting up 9.1 percent to the rest of the world.
Exports to South Korea alone rocketed by 65 percent.
Chancellor George Osborne wants to increase the value of UK exports to £1tn by the end of the decade.
The Treasury recently announced a £5bn scheme to help finance importers of UK goods.